Bitcoin $100,000? Bulls see crypto at $50,000 as a pit stop to much higher prices – MarketWatch
Bullish investors in bitcoin are cheering the virtual asset's reclamation of a perch above $50,000 over the weekend, but the rally back above that threshold only served to renew bold predictions that the world's No. 1 crypto will end the year at or above $100,000 a coin.
"Bitcoin has recaptured $50,000; a big psychological victory for the cryptocurrency that will no doubt get people talking about how long it will be until we're back in record territory," wrote Craig Erlam, senior market analyst at Oanda, in a Monday research note.
"In fact, there's already murmurings of $100,000 but let's face it, that's been the case ever since it almost hit $20,000 years back," he wrote.
Iqbal Gandham, vice president of transactions at Ledger, told MarketWatch that while there have been several predictions for where bitcoin will be toward the end of 2021, "most if not all point toward the next large hurdle being $100,000. "
"With all the movement, whether it be noise around ETFs or countries adopting BTC as legal tender, one could easily assume that this is where BTC would rest by the end of the year," he said, in emailed comments.
Bitcoin BTCUSD, +0.20% was up 2.4% Monday afternoon on CoinDesk, last changing hands at around $49,559, after hitting a recent peak above $50,000 on Sunday, with a year-to-date gain of about 70%. Ether ETHUSD, -0.22% on the Ethereum blockchain, the world's No. 2 ranked crypto by value, was up nearly 6% at $3,328, with a gain so far in 2021 of 350%.
Ether has outstripped its bigger cousin bitcoin in percentage terms this year and some experts are wagering that bitcoin may start to make up some of its lost ground in the rest of 2021.
Ether enjoyed a surge to an early May peak on the back of increasing attention arnered by Ether via the use of nonfungible tokens, or NFTs, that typically run on Ethereum. Meanwhile, decentralized finance applications, which have also drawn increased attention and tend to operate atop the No. 2 crypto's digital framework, have helped to bolster Ether prices, experts say.
Gains from Ether and other alternative coins, or altcoins, have helped the overall market cap for digital assets jump above $2.1 trillion, marking the highest level since around May, according to CoinMarketCap.com.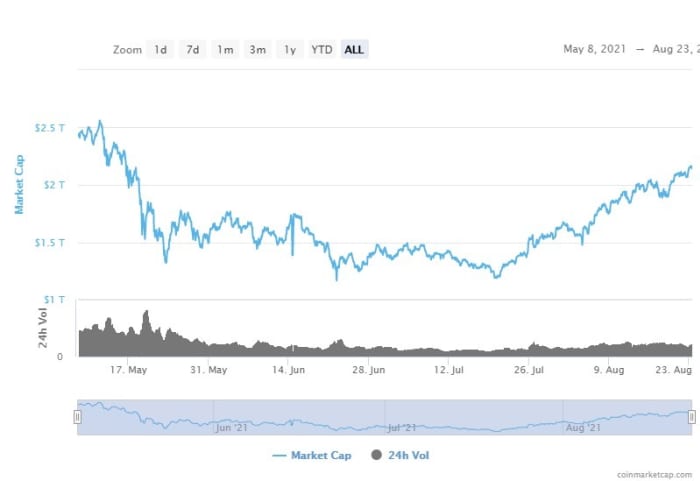 Still, many digital asset pros see bitcoin commanding outsize leadership of those moves, both to the downside and on the upswing.
"As bitcoin once again crosses the US$50,000 mark, the world's biggest cryptocurrency demonstrates that it is antifragile," wrote the chief technical officer of Bitfinex, Paolo Ardoino, in emailed comments.
Earlier this summer, crypto gains cooled considerably on the back of crackdowns imposed by China in trading and bitcoin mining. China had been one of the biggest regions for mining digital assets.
On top of that, heightened scrutiny of crypto trading by the Securities and Exchange Commission also has helped to dull some of the enthusiasm around bitcoin and its brethren.
But momentum may be shifting back in favor of the crypto bulls.
"While China's moves against cryptocurrency mining were viewed at the time as a blow to the industry, it now looks like a test that the king of crypto passed easily," wrote Ardoino.
That includes an announcement by PayPal Holdings Inc. PYPL, +1.47% that the payment processor will offer crypto trading in the U.K. Separatley, the announcement that payment network Visa Inc. V, +1.20% purchased a nonfungible token, or NFT, also may be helping deliver a bullish jolt to the crypto market.
Fundstrat Global Advisors founder Tom Lee, in comments to CNBC earlier this month, also maintained his forecast for bitcoin to hit $100,000 in 2021, as a part of what the analyst describes as the "everything" rally.