Body-Lawson honored by New York AIA Chapter – New York Real Estate Journal Online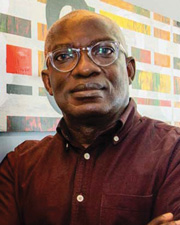 New York, NY Victor Body-Lawson, the architect, educator and artist known for community-driven designs for affordable housing, religious structures, mixed-use buildings and more was honored with a special honor from the American Institute of Architects (AIA) New York Chapter for his work, the Leadership in Housing Award.
The award was bestowed as part of the AIA Annual Meeting, during which the chapter also elected its 2022 leadership and celebrated their progress and direction. The AIA New York Chapter also "honored those who contribute to our city's built environment," including Victor Body-Lawson, AIA, NOMA, the founder and principal of Body-Lawson Associates Architects and Planners, widely known as BLA.
According to Body-Lawson, "For the past 25 years, my journey as an architect along with my colleagues has been to endeavor to empower people with architecture, especially through equity in affordable housing. So, to be acknowledged with the Leadership in Housing Award speaks volumes about our contribution to the built environment."
Body-Lawson also thanked the AIA New York Chapter, its president Ken Lewis, AIA, and the chapter's honors committee members for unanimously selecting him for this award.
In his work, Body-Lawson has shown how commitment to changing the built environment through dialogue can have profound and lasting impact on inner cities and neighborhoods, from his own Harlem to the coast of Ghana. Over a 35-plus-year career of integrated academic, artistic and professional enterprise — and strengthened through the founding his own firm in 1993 — he has led a design studio and practice, coupled with academic inquiry and on-the-ground real estate entrepreneurship, dedicated to the transformation of urban fabric, affordable housing and more.
The impact of Body-Lawson's work has included reinventions of affordable housing such as the 38-building, 1,340-unit Diego Beekman Houses in the Bronx (1998), which started with a bus tour of public housing for the residents. Other works include new senior housing with teen community centers, creating multigenerational loci of activity, such as the recent Home Street Residences. His firm, BLA, is architect along with WXY architecture + urban design for the 740-unit La Peninsula mixed-use campus in the Bronx, now completing its first phase.
Body-Lawson's significant impact in affordable housing alone includes over 3,000 homes including supportive, workforce, transitional and senior apartments. His work on houses of worship and commercial architecture has directly impacted thousands more community members in those neighborhoods, creating jobs and knitting together people and institutions.

Thanks for Reading!
You've read 1 of your 3 guest articles
Register and get instant unlimited access to all of our articles online.
Sign up is quick, easy, & FREE.
Tags: