Canada has 'responsibility' to provide energy to Europe, Alberta finance minister says – Financial Post
Russia's invasion of Ukraine has renewed the resolve of Alberta energy proponents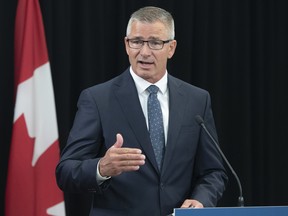 Russia's invasion of Ukraine has renewed the resolve of Alberta energy proponents, who say the world needs Canada's brand of ethical oil.
Advertisement
This advertisement has not loaded yet, but your article continues below.
The sight of Russian President Vladimir Putin attempting to redraw borders on the eastern edge of Europe has served to rekindle debate about whether Western allies should buy energy from each other, rather than countries that threaten democratic values — though in some cases critics have argued Russia's aggression will only accelerate the green energy transition underway in Europe.
But the argument that too much of the world's energy is produced by bad actors has been a key message of Alberta's UCP government: Canada, for example, could provide a secure supply of gas to Europe, lessening its dependence on Russia, Alberta Finance Minister Travis Toews said in an interview.
"Western Europe have found themselves very, very dependent on Russia for their energy," Toews said on Feb. 26 after presenting his latest budget. "As we take a look at the intermediate and long term, I believe Canada and certainly Western Canada, has both an opportunity, but maybe more importantly, a responsibility to provide energy to Western Europe."
Advertisement
This advertisement has not loaded yet, but your article continues below.
Russia currently produces around 10 per cent of world oil supplies and more than a third of Europe's gas. Fears over potential sanctions and severe disruptions to already tight energy supplies helped to propel oil prices above US$100 a barrel Thursday.
To be sure, Canada currently lacks the infrastructure to be a serious international supplier beyond the United States. That hasn't stopped Alberta's leaders from seizing the moment. As Russian troops advanced on Ukraine, Premier Jason Kenney called for a "hard global embargo of all Russian oil & gas exports," in a tweet on Feb. 23 — a move which experts say would damage Russia, but also some European countries who are reliant on its gas supply.
This advertisement has not loaded yet, but your article continues below.
Article content
Canada, too, is an importer of Russian oil, amounting to close to $3.6 billion over the past decade, according to an analysis by University of Calgary economist Trevor Tombe.
And while Western allies have so far responded with a suite of sanctions intended to hobble Russia's economy, experts say there has been little indication that Europe and the U.S. have any appetite to seriously sanction Russian energy exports.
"The White House has gone to great lengths to convey that it will not target the Russian energy sector and exacerbate an already tight supply situation," Helima Croft with RBC Capital Markets said in a note to clients this week.
Croft said that there are also serious concerns that Russia could curtail energy exports in response to the sanctions.
"Some market participants contend that Russia would not want to risk their position as a reliable supplier, but since they have just plunged Europe into the gravest security crisis since WW2, we do not think we should be naive about the willingness of the Russian leader to play the commodity export card in pursuit of his revanchist agenda," Croft wrote.
• Email: mpotkins@postmedia.com | Twitter: mpotkins
Financial Post Top Stories
Sign up to receive the daily top stories from the Financial Post, a division of Postmedia Network Inc.
By clicking on the sign up button you consent to receive the above newsletter from Postmedia Network Inc. You may unsubscribe any time by clicking on the unsubscribe link at the bottom of our emails. Postmedia Network Inc. | 365 Bloor Street East, Toronto, Ontario, M4W 3L4 | 416-383-2300