CPC Meets With Over 60 Legislators to Discuss Community Needs on 4th Annual State Advocacy Days – cpc-nyc.org
CPC Meets With Over 60 Legislators to Discuss Community Needs on 4th Annual State Advocacy Days
Main Content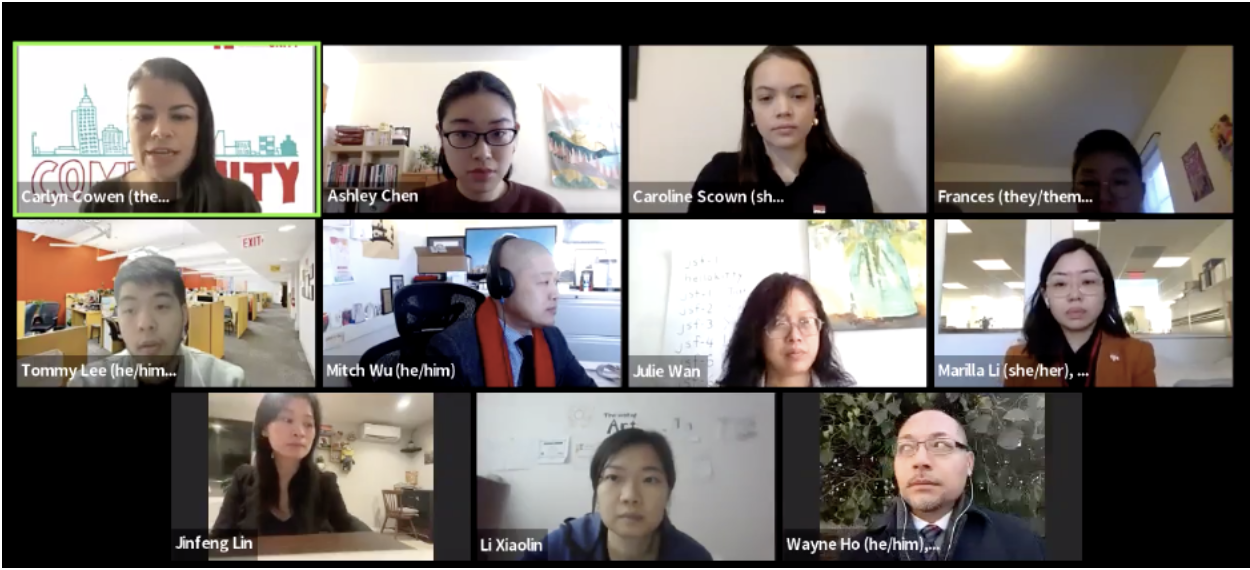 CPC held our 4th Annual State Advocacy Days on Tuesday, February 15 and Wednesday, February 16th. CPC staff and community members met with over 60 New York State legislators to discuss how CPC has been supporting our communities during COVID-19, why it is critical that we fund our programs and human services staff, and how we need guaranteed healthcare, housing relief, and more for a just recovery. 
Five legislators joined our State Advocacy Day virtual rally, which now has more than 2,500 views. Watch and listen to the rally here on Facebook. 
Thank you to the following legislators and their teams for meeting with our community members and program staff.
From the New York State Senate: Majority Leader Stewart-Cousins, Deputy Majority Leader Gianaris, Senator Addabbo, Senator Bailey, Senator Biaggi, Senator Comrie, Senator Gounardes, Senator Hoylman, Senator Jackson, Senator Kavanagh, Senator Kreuger, Senator Liu, Senator Myrie, Senator Parker, Senator Persaud, Senator Rivera, Senator Salazar, Senator Sepulveda, Senator Serrano, and Senator Stavisky.
From the New York State Assembly: Speaker Heastie, Majority Leader Peoples-Stokes, Assembly Member Abbate, Assembly Member Aubry, Assembly Member Barnwell, Assembly Member Braunstein, Assembly Member Bichotte, Assembly Member Burgos, Assembly Member Colton, Assembly Member Cruz, Assembly Member Cusick, Assembly Member Cymbrowitz, Assembly Member Dickens, Assembly Member Epstein, Assembly Member Fernandez, Assembly Member Frontus, Assembly Member Gonzalez-Rojas, Assembly Member Gottfried, Assembly Member Hevesi, Assembly Member Niou, Assembly Member Pheffer-Amato, Assembly Member Quart, Assembly Member Reyes, Assembly Member Rosenthal, Assembly Member Rozic, Assembly Member Septimo, Assembly Member Simon, Assembly Member Walker, and Assembly Member Weprin.
The economic and public health consequences of the COVID-19 pandemic have continued, and especially for Asian American and Pacific Islander, low income, and immigrant communities. In wellness checks, 70% of our community members have lost jobs and income. In 2021 alone, anti-Asian hate crimes rose 361%. CPC has continued providing essential services for our community, while serving 89,000 additional New Yorkers through our pandemic relief and navigation work. 
CPC's State policy agenda focuses on ensuring human services are fully supported to continue to conduct essential services, immigrant justice, healthcare access, stable housing, economic equity, and representation for marginalized communities. Our budget and policy priorities include:
Fully funding human services to meet increasing demand, extending the 5.4% COLA to all categories of Human Services workers, passing Just Pay to provide a $22/hour wage floor for all human services workers, and providing essential workers with hazard pay; 
Restoring and expanding funding for the Settlement House Program, Adult Literacy, Summer Youth Employment Program, Senior housing and supportive services, Care Coordination Organizations/Health Homes, early childhood education programs and Open-Ended Preventive/Protective Child Welfare Services; 
Passing Coverage for All, the End Medical Debt bills and the New York Health Act; passing Fair Pay for Home Care and the bill to end the 24 hour rule, lifting the Medicaid Cap;
Investing in community based legal services and support through expanding the Liberty Defense Project and Office of New Americans funding, replenishing the Excluded Workers Fund and finding a permanent solution to support our immigrant communities through the "Excluded No More" legislation, and passing the Access to Representation Act.
Read CPC's State Advocacy Agenda and CPC Home Attendant Program's Home Care State Agenda in full below. 
We would like to thank CPC staff and community members who participated in our 4th Annual State Advocacy Day: Shuk Cheng, Tommy Lee, Brian Chen, Priscilla Fok, Lois Lee, Stephanie Eng, Cindy Chen, Brenda Choy, Mitch Wu, Nicholas Lombardo, Serena Zhang, Ryan Nguyen, Scot Sherman, Belinda Liang, Caroline Scown, Xiu (Ashely) Li, Yao Jun (Ryan) Xu, Genesis Calderon, Benice Mach, Kelly Chen, Sharon Nguyen, Mina Youn, Blake Heiser, Betsy Chung, Jeff Lau, Winnie Cao, Jacqueline Fan, Ben Feng, Chau Ling, Lay Sim Tan, Li Xia, Kaitlyn Mar, Calvin Au, Anna Chen, Wendy Chu, Melody Yang, Amy Latorres, Marilla Li, Tina Chen, Brian Tang, Alissa Dong, Brian Cao, Serena Zhang, Olivia Wang, Karen Li, Xiao Lin (Tina) Li, and Jin Feng (Lily) Lin