Diversified Healthcare Trust: Fails To Generate Optimism – Seeking Alpha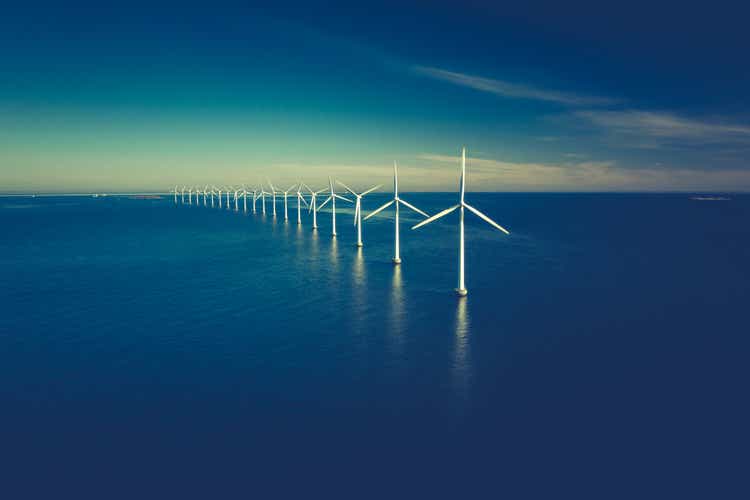 Diversified Healthcare Trust (DHC) is a healthcare real estate investment trust (REIT) that owns medical offices, life science properties, senior living communities and wellness centers throughout the United States. This REIT was established on December 16, 1998. DHC, formerly known as Senior Housing Properties Trust, is managed by the operating subsidiary of The RMR Group LLC (RMR), an alternative asset management company that is headquartered in Newton, Massachusetts, United States.
Diversified Healthcare Trust operates mainly in two segments: Medical Business Office (MBO), and Senior Housing Operating Portfolio (SHOP). MBO consists of medical office properties leased to medical providers, as well as life science properties leased to biotech laboratories. The SHOP segment manages senior living communities that offer short-term and long-term residential care, and other services for geriatric residents where it pays fees to an operator to manage the communities on its account.
Five Star Senior Living Inc. (FVE) is such an operator which manages about 66% of Diversified Healthcare Trust's SHOP, primarily independent living communities, assisted living communities and skilled nursing facilities. Five Star manages 120 senior living communities of DHC with approximately 18,000 living units. In addition, it also manages approximately 1500 skilled nursing units in wellness centers. Five Star charges a fee for operating DHC's community centers, and the earnings from such centers are transferred to DHC. However, till 2025, DHC cannot terminate Five Star or close down any center without paying a termination fee, even if Five Star fails to generate steady revenue. As a result, DHC can't sell up to $682 million worth of senior living communities without the payment of termination fee.
Since 2000, Diversified Healthcare Trust has paid strong quarterly dividends with an annual yield between 7 to 10 percent. However, after paying a strong quarterly dividend between $0.3 to $0.39 for 76 quarters, its dividend payment started decreasing drastically from the second quarter of 2019, and has come down to a level of $0.01 at present, with a yield of only 1.47 percent. Once considered a good investment opportunity for income seeking investors, this REIT has surely been a disappointment in the past 12 quarters.

Source: https://seekingalpha.com/symbol/DHC/dividends/history and https://seekingalpha.com/symbol/DHC/dividends/yield
This drastic drop in yield became more painful for its investors when it was compounded by a 76 percent fall in price during almost the same period. During the past five years DHC's price fell by more than 85 percent. From $23.52 on Sep. 27, 2016, the price has come down to $2.9 at present. Whereas, during the past five years, S&P 500 has generated a price growth of 76.5 percent. Thus, DHC's overall investor returns have been extremely poor during the past three to five years.

Source: Diversified Healthcare Trust Momentum Performance
Nonetheless, DHC was one of the worst performers (in terms of price growth) among its peer healthcare REITs (market capitalization of less than $5 billion). This REIT has recorded a negative price growth of more than 85 percent over the past 5 years, and started its downward movement 18 months prior to the pandemic related market slump in March 2020. The stock has also failed to recover since then. Its closest competitors in terms of market value (close to $1 billion), Community Healthcare Trust Incorporated (CHCT) and Global Medical REIT Inc. (GMRE) have recorded around 80 percent positive growth during the same period.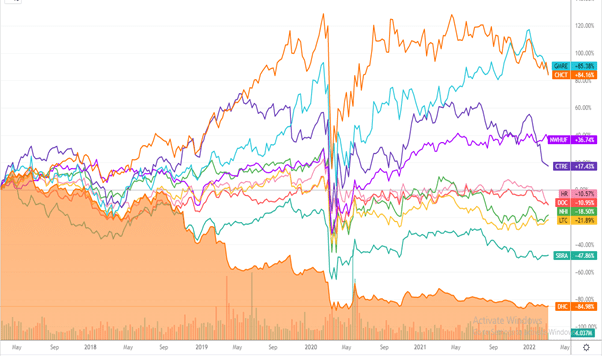 Compared with its peers, both DHC's current dividend yield (1.47 percent) and 5 year dividend growth rate (negative 52 percent) are extremely low. This REIT's current pay-out ratio is also extremely low at 5.41 percent, as compared to the 70 to 90 percent pay-out offered by its peers. A 60-month beta of 1.52 makes it a relatively risky healthcare REIT. A revenue growth of just 5.5 percent over the past 5 years is the only ray of hope for its investors, assuming further investments may add some more revenue in the long run.
The P/E of Diversified Healthcare Trust is extremely low at 3.73. This is due to the fact that this REIT has negligible earnings. However, for REITs, the P/E ratio doesn't hold much significance, because the value of real estate investments is more meaningful in terms of assets rather than earnings. A price to book value just over 0.24 suggests that investors are not at all optimistic over DHC utilizing its assets to generate sufficient cash flow in the future. Since 84 percent of its investors are institutions, their skepticism is a real cause of concern.
However, an EV/EBITDA of 16 gives some hope in terms of generating operating income and thus cash flow in the long run. There are some possibilities as in the last year, DHC sold a few of its properties to generate significant liquidity. In February 2021, DHC sold one medical office property for a sales price of $9.0 million, and in April 2021, it sold four life science and medical office properties for a sales price of $95.5 million. Together, these two disinvestments account for around 16 percent of DHC's current market value.

Still, there is no sign of improvements in the short term. The fund saw a series of falls to reach the current level of around $2.9, which is very close to the 52-week low of $2.35. As I don't assume any significant improvement in the SHOP business segment in the next six months, there is a likelihood of this price falling further down to reach somewhere near the 52-week low. This assumption gets further validation as all the long-term moving averages of this REIT are above the short-term moving averages. The gap between 200 days simple moving average and 100 days simple moving average is noticeable enough.

However, everything's not lost for DHC's investors. As mentioned earlier, it has a positive revenue growth, past track record of paying strong and steady dividends prior to 2019, moderate EV/EBITDA multiple, and high institutional stakes, which can be viewed as some positive growth drivers in the long run. Moreover, DHC has focused itself on several facilities that are essential for offering services towards geriatric citizens. "Thanks to the aging of the baby boom generation, there's going to be a lot more demand for this landlord's properties. In 2020, 17% of the U.S. population was 65 or older. That is projected to rise to 22% by 2040, representing a 44% increase in the total number of people in the 65 and older category". The trends have already started showing. Occupancy levels at senior housing assets that hit bottom in February 2020 have been recovering since then.
But, in the short run, I am not very hopeful about DHC's price and dividend performance. I also feel that its move to sell out assets in the MBO segment and concentrate more on the SHOP segment is a very tricky one, unless it is done to get rid of tough competition in the MBO segment. Lately, the MBO segment has become lucrative, as demand for outpatient facilities and other medical office buildings, including hospitals and other healthcare facilities has been growing. This segment, though overcrowded, has very high growth potential. That's why selling off the life science and medical office properties will surely put pressure on already thin top line growth in the immediate term. The SHOP segment despite having growth potential doesn't seem to be in a position to generate significant revenue growth as the properties are being operated by third parties under fixed operating fees, but without any guaranteed revenue commitment.
Overall, Diversified Healthcare Trust doesn't excite me. It is neither suitable for income seeking investors, nor is suitable for growth seeking investors, at least in the short and medium term. Another very important thing to note about DHC is that investors can't effectively hedge their exposure by buying or selling call and put options. There are no call and put options either on June 17, 2022 (3 months forward) or on September 16, 2022 (6 months forward) available at a strike price below $2.5. Being bearish on this REIT, I would have preferred to hedge my exposure through options with strike prices at a level of a 52-week low or lower than that. In my opinion, there are enough healthcare REITs which are paying strong and steady dividends, coupled with significant price growth.