Gold Royalty: An Inferior Way To Play The Gold Price – Seeking Alpha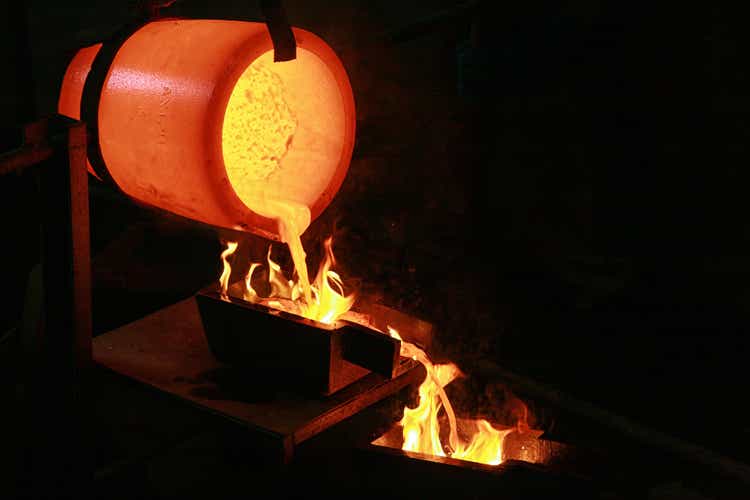 It's been a strong start to the year thus far for the precious metals royalty names, but one name that's been left in the dust is Gold Royalty Corp. (GROY). Not only does the stock have a negative return year-to-date, but it's underperformed the Gold Juniors Index (GDXJ) by ~2500 basis points. This underperformance can be attributed to its lofty valuation heading into 2022, and even after the decline, I still don't see any margin of safety for new investors. Given Gold Royalty Corp.'s relative overvaluation, I think there are far more attractive places to park one's money in the gold (GLD) sector.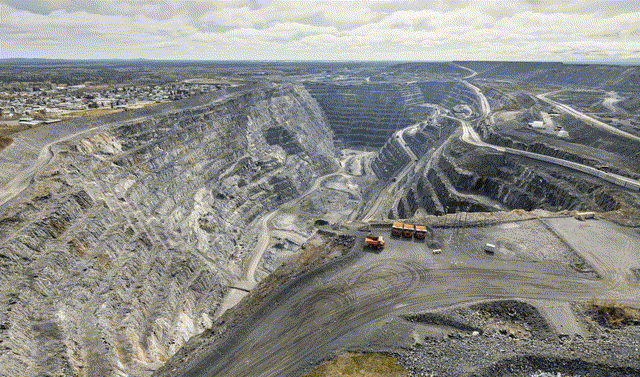 I wrote on Gold Royalty Corp. [GRC] just over four months ago, noting that while GRC was one of the best-performing precious metals stocks last year, the outperformance was unlikely to continue. This is because the company was trading at more than 1.0x P/NAV and more than 100x FY2022 revenue estimates, and a premium to peers with more attractive royalty/streaming portfolios. Since then, the stock has declined 25% vs. a 13% increase in the Gold Miners Index (GDX), and I still don't see any reason to own the stock. Let's take a closer look below:
As pointed out in previous articles on GRC, the company may have a large portfolio of assets with over 190 royalties, but less than 5% of these assets are in production, and more than 70% of the assets are in the early-stage exploration phase. Suppose we adjust for the significant amount of assets that aren't likely to generate revenue over the next five years (early-stage exploration). In that case, GRC's royalty portfolio is not that large relative to peers, and its revenue certainly pales in comparison. This is evidenced by trailing twelve-month revenue of less than $4 million compared to its market cap of more than $600 million.
In an effort to boost its medium-term revenue and add some depth to its portfolio, GRC has attempted to acquire some new royalty assets, trying to pick up a net smelter return [NSR] royalty on the Seguela Project in Cote d'Ivoire. Unfortunately, this fell through, with Franco-Nevada (FNV) getting the 1.2% NSR royalty on this high-grade asset. This led to the company going on an M&A spree, acquiring two other royalty companies: Abitibi Royalties and Golden Valley.
However, while these deals did add revenue, the revenue base was still relatively concentrated across just a few assets (Isabella Pearl, Marigold, Jerritt Canyon, Canadian Malartic). If we factor in that Isabella Pearl's best days will be behind it by 2024, this is a lot of concentration across just three assets, so it makes sense that GRC has been anxious to get another deal done. The good news is that it succeeded just recently, scooping up a 0.75% NSR royalty at the Cote Gold Project in Ontario for ~$16 million.
Cote Gold
The good news with the Cote Gold acquisition is that it has maintained GRC's desirable exposure to revenue from solely Tier-1 jurisdictions (Nevada, Quebec, Ontario), and it should provide a nice boost to revenue by 2024. This is because IAMGOLD (IAG) and Sumitomo hope to bring Cote Gold into production by 2024, with this operation capable of producing more than 360,000 ounces of gold per annum (mine life average). Having said that, the royalty applies to just a portion of the project, so while a 0.75% NSR royalty is a good size for an asset like this, it does not cover all of the ounces produced.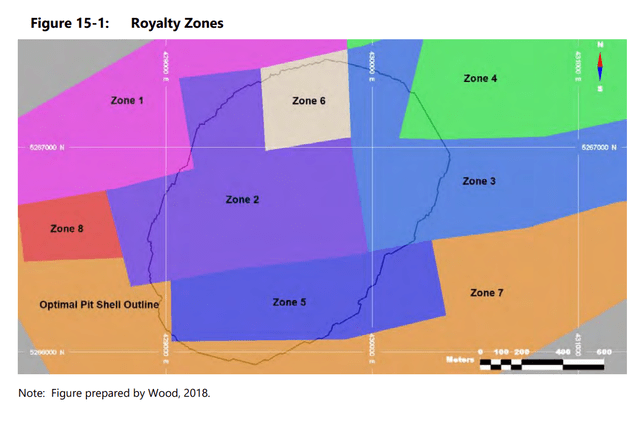 In fact, if we look at the royalty coverage map from the technical report, GRC's royalty applies to Zone 5 and Zone 7 (dark purple/orange), which covers only the southern portion of the optimal pit shell outline. This translates to roughly one-third of the proposed open pit, but it covers zones with higher-grade mineralization that are expected to be mined during the initial phases. It's too early to tell exactly how much this will contribute to GRC's revenue, but GRC has estimated that it will generate up to $2 million in revenue in 2024 and up to $3 million in 2025.
With an expected payback on its investment by 2029, this is a decent deal for GRC, and it helps to diversify the company vs. its high concentration to just a few assets. Having said that, while Cote Gold is close to a Tier-1 asset (~480,000+ ounces over the first five years), it does not have a Tier-1 operator as a majority-owner. In fact, Iamgold is one of the weakest operators sector-wide with industry-lagging costs. This is not likely to affect GRC's ability to return its initial investment on this royalty asset. Still, from an exploration standpoint, it is preferable to be partnered with stronger operators who are well-capitalized to support extremely aggressive drilling on their best assets.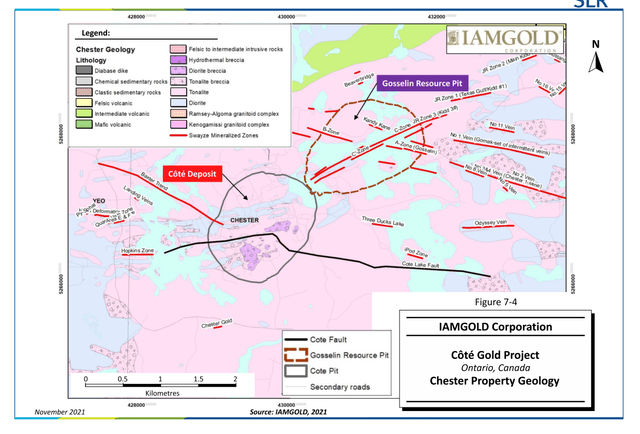 It's also worth noting that the future of Cote looks to be northeast of the currently proposed pit, where the company has defined a multi-million-ounce resource at Gosselin. This benefits Metalla Royalty (MTA) which got a great deal for an NSR royalty at Gosselin, but it does not help GRC, which will get a payback on its recently acquired royalty but may not see as much contribution post-2028. Obviously, this could change if the company makes a major discovery on the southern limits of the proposed pit, but for now, the low-hanging fruit and possible connection appears to be to the northeast at Cote.
Canadian Malartic
When it comes to the massive Canadian Malartic Mine, GRC was quick to point out the meaningful growth in the resource base on a year-over-year basis in the updated 2021 resource estimate. It conveniently left out the fact that the growth in M&I resources came from the high-grade East Gouldie deposit, where GRC does not have royalty exposure. Instead, the bragging rights for the resource growth should have gone to Osisko Gold Royalties (OR), which holds a massive 5% NSR royalty on the asset. This is evidenced by the chart below and GRC's map of its royalty coverage.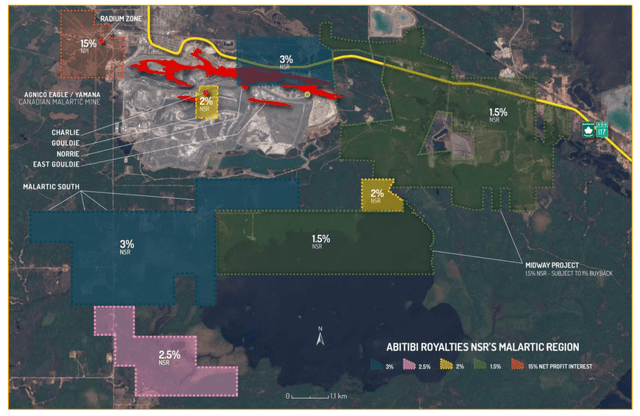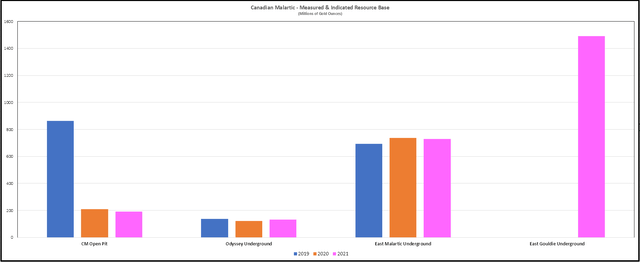 When it comes to inferred resources, the same is true, with East Gouldie being home to the majority of underground inferred resources at Canadian Malartic. From these charts (above and below), and the fact that grades are much higher at East Gouldie, it should be quite clear that the real future for this asset is East Gouldie, not Charlie, Midway, Malartic South, or the main open pit, where reserves/resources continue to decline. As of the 2021 reserve update, Canadian Malartic's reserves (open-pit ounces) declined once again to ~3.5 million ounces, or barely five years of mine life.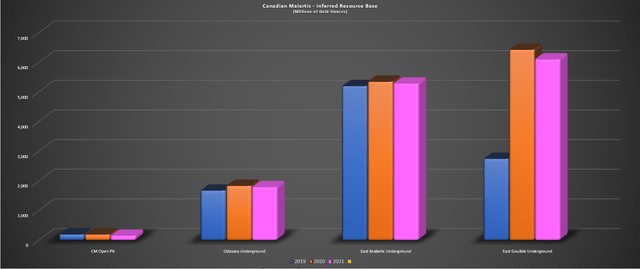 This doesn't mean that GRC won't receive meaningful revenue from Canadian Malartic, nor does it mean that the company won't see some benefit from its other royalty coverage. In fact, we could see exploration ramped up on land surrounding the open-pit mine, given that there will be significant idle capacity at the mill (~35,000 tonnes per day). However, if discoveries are made on Midway, there is a 1% buyback, which I would expect to be exercised if ounces are added here.
Meanwhile, though new discoveries in open pits offer low hanging fruit and could be economical at a 0.60 gram per tonne cut-off grade, I would think that the priority is East Gouldie Underground, given that there's more bang per buck of material processed with East Gouldie having a grade four times as high as most of the open-pit opportunities. In summary, the real beneficiary of the recent ounce additions at Canadian Malartic is Osisko Gold Royalties, and I would expect exploration to remain focused at East Gouldie and less so on land where GRC has royalty coverage.
Fenelon
Ahead of the Q4 2021 resource estimate, Wallbridge Mining's (OTCPK:WLBMF) CEO Marz Kord noted that the reason for not going ahead with a smaller-scale project was because it made sense to permit a much larger project down the road. This larger project, according to Kord, "might be looking at 300,000 ounces to 400,000 ounces per year production" which certainly would have meant a lot to Gold Royalty Corp., which owns a meaningful 2% NSR royalty on the project. However, following the maiden resource estimate, I am skeptical of a 250,000-ounce average production profile, let alone the 300,000 to 400,000 ounces discussed.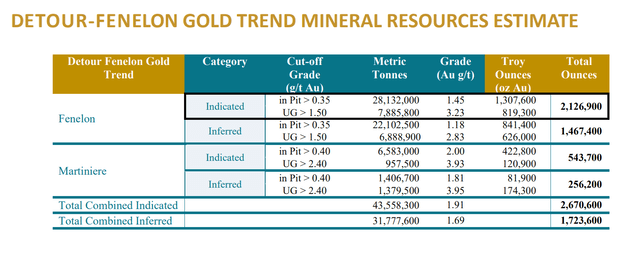 This is because the grades came in well below my expectations, and the size of the deposit also came in slightly below my expectations. As shown above, the Indicated or higher confidence portion of the resource came in at ~2.13 million ounces at an average of 1.84 grams per tonne gold, with the open-pit portion coming in at 1.45 grams per tonne gold. These are very respectable open-pit grades relative to the industry average. Still, they are below that of Marathon's (OTCQX:MGDPF) Valentine Project and nowhere near the incredible grades at projects like Back River (OTCQX:SGSVF).
Based on the size of the open-pit resource alone, and even if we assume a 70% conversion rate of inferred material (~841,000 x 0.7 = ~589,000 ounces), it's a stretch to see how this is a 300,000 to 400,000 ounce per annum operation. This is because the resource comes in at less than 1.9 million ounces currently (~1.31 million ounces indicated, ~589,000 million ounces inferred at 70% conversion), which wouldn't even support a 7-year mine life. Besides, from a grade standpoint, Wallbridge would need a relatively large-scale project to get anywhere near the 400,000-ounce mark.
Even with a mill processing 15,000 tonnes per day at a 94% recovery rate and a 1.45 gram per tonne average grade, this would translate to the production of ~240,000 ounces per annum. This would still be a solid production profile, but the project certainly wouldn't be cheap to build, with Marathon's much smaller project (6,800 tonnes per day, then 11,000 with expansion) likely to cost at least $400 million after adjusting for inflationary pressures. I would imagine that Wallbridge will look at a smaller project or a staged approach so that it doesn't need to raise $500+ million to fund construction. Hence, I think even a ~250,000-ounce production profile by 2026 looks unlikely.
So, while some investors might have been assuming nearly $13 million in annual revenue from Fenelon coming to GRC (7,000 ounces per annum x $1,825/oz) by 2025, I think the more likely scenario is 4,000 ounces per annum at best by 2026. This is based on my view that Fenelon's annual production profile is likely to be closer to the 200,000-ounce mark than the 300,000-ounce to 400,000-ounce mark thrown around in August of last year.
Obviously, my view on the project could change as the project progresses, and if we were to see a leader with more experience take over at the helm, I could change my estimates. However, as it stands, I believe the recent resource estimate has shifted Fenelon from a game-changing asset for GRC to a solid asset to help backfill its valuation. Unfortunately, this could take until 2026 to start delivering, and at much lower revenue levels than initially expected. This timeline is based on my view that we won't see a Feasibility Study until Q4 2023, and then permitting will come at the earliest in H2 2024, with an 18+ month construction schedule.
Valuation
Based on ~155 million fully diluted shares and a share price of US$4.10, GRC's market capitalization comes in at approximately $635 million. If we divide this by the number of royalty assets the company owns (192), an investor might conclude that they're getting a pretty good deal, with the company valued at just ~$3.3 million per royalty. However, it's important to note the majority of these royalty assets will not generate any revenue for GRC this decade, and many will never go into production.
As a matter of fact, GRC defines more than 65% of its portfolio as "early exploration". There are exceptions, but in most cases, this means that these assets will not be contributors to revenue in the next five years. In fact, many of the companies that control these assets do not have large exploration budgets, nor are they strong teams where one might expect to see $10+ million in annual exploration on these properties to drill or advance them towards a production decision.
If we compare this to companies like Osisko Gold Royalties [GR] where it has key assets held by large operators/developers, like Upper Beaver which is a high priority for Agnico Eagle (AEM), Windfall held by Osisko Mining (OTCPK:OBNNF), and Hermosa, owned by South 32, the difference is night and day. So, while Osisko GR may hold less royalty/streaming assets, its assets are much more attractive in my view, and the same goes for Nomad Royalty (NSR), which has less than 30 assets.
Instead of looking at the number of royalties/streams a royalty company holds, an investor should look at the following:
revenue being generated or that will be generated by those assets in the next five years
the depth of the portfolio
who the companies are that own these properties, and what their budgets are
where these assets rank on a priority list for these companies
what key assets could be significant but are discounted in the market cap due to being years away from production
For example, while Agnico Eagle is a top-5 operator, a royalty on Upper Beaver would be much more attractive than Hammond Reef, which is also held by Agnico Eagle. This is because Upper Beaver is a lower-cost and lower capex project that will likely head into production five years ahead of Hammond Reef. So, even though Agnico holds both projects, one clearly has more value than the other.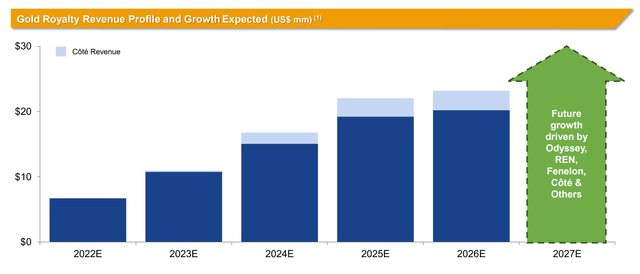 Now that we've established that the number of assets is less important, we can look at GRC's revenue estimates, which will give us an idea of where the company is trading on a price to sales basis. As shown above, GRC hopes to generate ~$21 million in revenue in 2025, which assumes that the Cote Gold Project doesn't see any delays ramping up to commercial production. This represents impressive growth from ~$6 million in 2022, but it still leaves GRC trading at more than 30x FY2025 revenue estimates ($635 million / $21 million).
To put this valuation in perspective, the largest and most diversified operators sector-wide with very strong technical teams like Franco-Nevada and Royal Gold (RGLD) trade at ~22x and ~13x FY2022 revenue estimates, respectively. So, if an investor is itching to pay more than 20x forward sales, it makes much more sense to go with Franco Nevada than GRC, given that it's more diversified, pays a dividend, and has a near flawless track record. Meanwhile, among the smaller royalty players, and the more relevant peer group for GRC, Nomad (NSR) trades at less than 10x FY2022 revenue. Hence, I can't find a single reason to own GRC at these levels on a relative basis.
Summary
Given GRC's unattractive valuation, the fact that most of its asset portfolio is early exploration, and much of its development/advanced exploration portfolio is held by one operator, I think there are far better ways to play the gold price. This is especially true given that higher-quality companies with better track records are trading at more attractive valuations and it's difficult to judge GRC's track record. This is because its history has consisted mostly of acquiring companies at large premiums with inflated shares vs. shopping for deals like other players. Therefore, while a rising tide (gold price) will lift all boats, GRC is one of my least favorite ways to play the sector.
This article was written by
"A bull market is when you check your stocks every day to see how much they went up. A bear market is when you don't bother to look anymore."- John Hammerslough – Disclosure: I am not a financial advisor. All articles are my opinion – they are not suggestions to buy or sell any securities. Perform your own due diligence and consult a financial professional before trading or investing.
Disclosure: I/we have a beneficial long position in the shares of AEM, OR, NSR, GLD either through stock ownership, options, or other derivatives. I wrote this article myself, and it expresses my own opinions. I am not receiving compensation for it (other than from Seeking Alpha). I have no business relationship with any company whose stock is mentioned in this article.
Additional disclosure: Disclaimer: Taylor Dart is not a Registered Investment Advisor or Financial Planner. This writing is for informational purposes only. It does not constitute an offer to sell, a solicitation to buy, or a recommendation regarding any securities transaction. The information contained in this writing should not be construed as financial or investment advice on any subject matter. Taylor Dart expressly disclaims all liability in respect to actions taken based on any or all of the information on this writing. Given the volatility in the precious metals sector, position sizing is critical, so when buying small-cap precious metals stocks, position sizes should be limited to 5% or less of one's portfolio.