Healthcare Services Group: 5.2% Dividend Yield And 18 Straight Years Of Dividend Growth – Seeking Alpha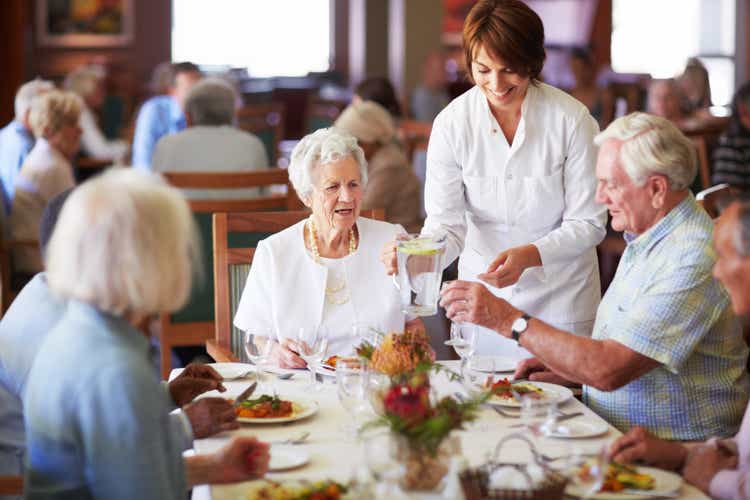 Thesis: Better Days Ahead
Healthcare Services Group (HCSG), as the name would imply, is one of the largest third-party providers of various services such as housekeeping, dining, nutrition planning, and laundry to healthcare providers such as hospitals, nursing homes, and senior living centers. They manage some or all of these services at over 3,000 healthcare facilities across the nation.
As the nation ages and the population of seniors grows, demand for HCSG's services has increased steadily over time. As a result, HCSG's EPS and dividend have likewise increased steadily over time.
The dividend, for instance, has been raised for 74 consecutive quarters since the payout was initiated in 2003.
And yet, HCSG has run into some struggles in recent years as senior living operators have been financially stretched thin and unable to expand their use of HCSG's services. Then, when the pandemic hit, senior living centers gradually saw occupancy drop, and HCSG's rebound was delayed. Then, in 2021, inflationary pressures got worse and worse, squeezing HCSG's margins thinner and thinner.
Right now, the labor shortage is putting massive pressure on margins by pushing up labor costs, and even aside from labor costs the lack of availability of workers constricts HCSG's ability to expand their services and revenues. Moreover, inflation in food and cleaning supplies has shrunk margins for the company's core services.
The good news is that HCSG will be working through the first half of 2022 to modify their existing contracts with clients to adjust for the effects of inflation. In other words, they are raising their prices in an attempt to return to their previous margins.
Another piece of good news: HCSG has zero debt on the balance sheet, and the company ended 2021 with $70.8 million in cash and $114.4 million in marketable securities ($2.47 per share combined).
Better days are ahead. And they don't have to be that much better. Given that HCSG's stock price is near its 10-year low, it shouldn't take too much of an improvement in the fundamentals to result in decent returns.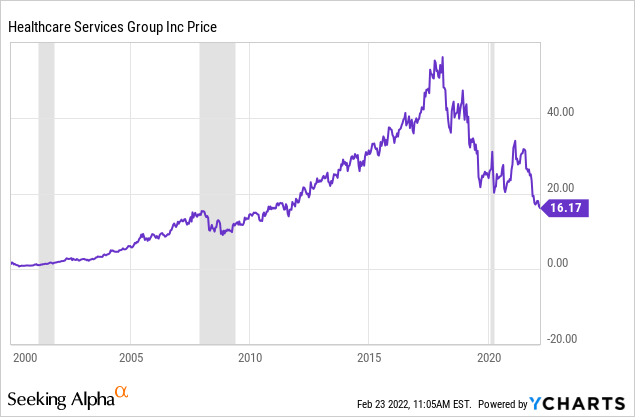 Overview Of Healthcare Services Group
HCSG provides third-party services to nursing homes, hospitals, and other healthcare facilities across the nation, but geographically they are concentrated mostly in the Eastern half of the country.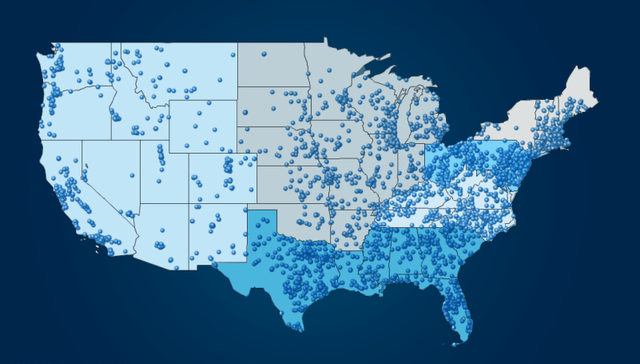 As of the first quarter of 2021, revenues were split between the two business segments of Housekeeping & Laundry at 53% and Dining & Nutrition at 47%.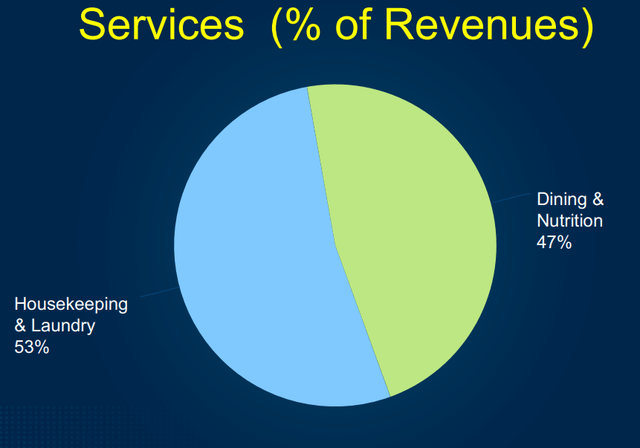 "Housekeeping" includes both the standard linen-changing and bedroom tidying that one might normally associate with hotel housekeeping as well as janitorial services that have become even more vital in the COVID era. When a healthcare provider is looking to cut costs, they will not be looking to cut out cleaning services if they want their patients/residents to remain alive and healthy.
HCSG is one of the country's leading providers of these third-party services, boasting a client retention rate over 90%.
For decades, revenue grew at a solid pace with barely any hiccups.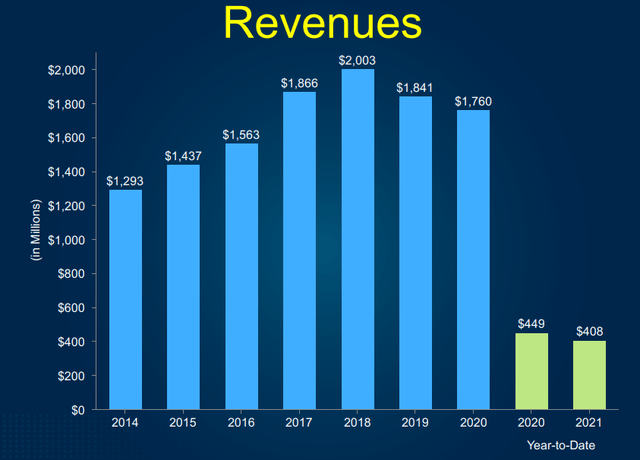 Then, around 2017-2018, senior housing and senior care centers became severely overbuilt. Developers got far ahead of their skis in expectation of a huge rise in demand from the "silver tsunami" of aging baby boomers. Senior care operators' budgets became stretched, and they looked to cut costs wherever they could. In this environment, HCSG's revenues unsurprisingly faltered.
Net income, on the other hand, fared a little better, at least through 2020. Even by the end of 2020, occupancy at senior living & care facilities had been declining but was far from hitting rock bottom.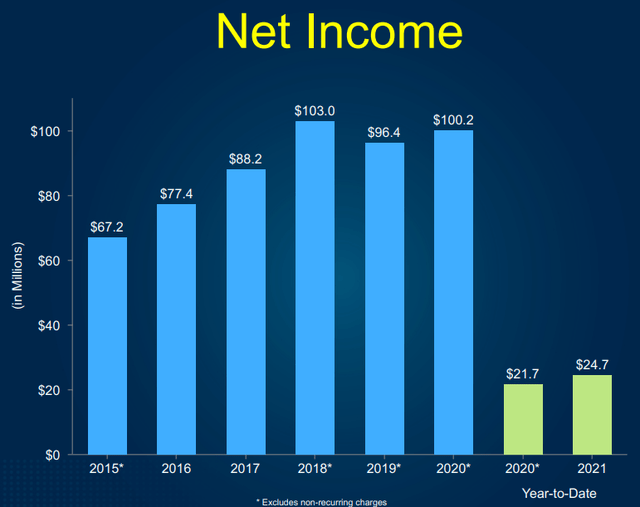 But occupancy kept declining into 2021, not reaching its lowest point until the summer months.
At the same time, inflationary pressures began to build, raising costs for labor, cleaning supplies, food, equipment – almost everything HCSG needs to conduct business.
In the first quarter of 2021 (illustrated by the green bar above on the far right), before inflation really took off, net income rose 13.8% year-over-year. However, because contractual revenue was fixed, higher costs of labor and services crushed HCSG's margins and led to an over 50% decline in net income.
2020 Net Income: $98.68 million
2021 Net Income: $45.86 million
The Housekeeping & Laundry segment's margin ended the year at 5.7%, while Dining & Nutrition's margin shrank to 2.1%.
Cost of services provided accounted for 84.8% of 2020's revenues, but in 2021 they ate up 86.2% of revenues. In the fourth quarter, cost of services amounted to 89.7% of revenues.

Operating income declined from 2020 to 2021 by nearly 56% and was negative in the fourth quarter. Yikes! HCSG only had positive net income for the fourth quarter because of investment income from marketable securities. Not exactly an ideal situation.
Speaking of not ideal situations, EPS declined by about 54% year-over-year.

Moreover, in 2021, HCSG's dividend payout of $0.8375 exceeded EPS by 37.3%.
This is obviously an unsustainable situation, if it persists. But will it? Is there a light visible at the end of the tunnel yet?
Well, here's CEO Ted Wahl from the Q4 2021 earnings press release:
Having managed through those challenges, we are cautiously optimistic that the availability of staff improves, labor market pressure stabilizes and operators are able to build back their census in the year ahead. We will continue to monitor industry recovery and remain confident that, despite near-term headwinds, the long-term growth outlook for the Company remains strong given our market leadership, efficient operating model and the attractive demographics.
That sounds familiar — the CEO believes the long-term outlook remains strong despite the near-term inflationary headwinds. It's a familiar narrative. Lots of CEOs are espousing it right now for their respective companies.
Is it true for HCSG? Candidly, I'm not sure. Labor shortages are extreme right now in the senior housing/care space, and that includes HCSG as a third-party provider to the industry. Just as the lack of labor availability caps the level of occupancy feasible at facilities, so also does it restrict the amount of services HCSG is able to provide.
That said, if management is successful at renegotiating contracts with customers in the first half of the year, HCSG should see improvement in its margins in the second half of the year.
Whether this endeavor will be successful or not, frankly, I have no idea. However, it does provide some comfort to know that HCSG is one of the dominant players in its particular niche. They have the size, scale, and balance sheet strength to survive this difficult period.
Moreover, the stock is attractively valued based on several important valuation metrics.
Admittedly, enterprise value to EBITDA doesn't make the company look dirt cheap because EBITDA is so depressed right now (including for 2022).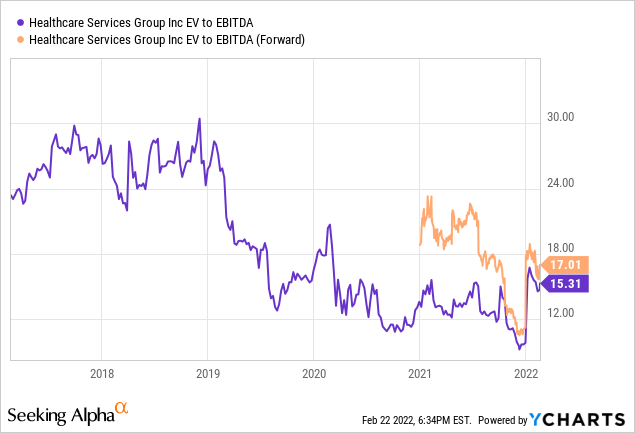 But HCSG hasn't been this cheap on a book value basis since the depths of the Great Recession.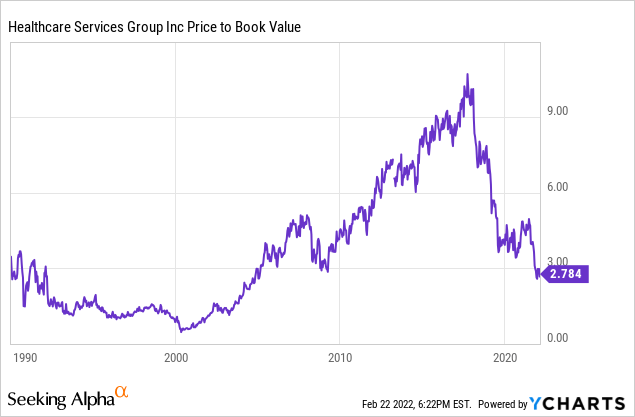 And if HCSG was to successfully repair its margins such that EPS returned to $1.32 (the same level as 2020) in 2023, it would currently be trading at a price-to-earnings multiple of 12.3x.
That's pretty cheap for a company that has historically grown pretty steadily and has aging demographics as a long-term tailwind. Not to mention the 18-straight years of dividend growth, which appears to be continuing right through the current inflationary bout.
The most recent dividend hike in February 2022 may have been miniscule at 0.6%, but it was still moving in the right direction.
Bottom Line
HCSG is an interesting deep value play. Whether right now is the time to buy probably depends on one's view of whether inflationary pressures and labor shortages will ease going forward or continue to get worse.
Personally, I find HCSG compelling at the current depressed price. As I said in the introduction, it would only take a little bit of improvement from the current headwinds to put a floor under HCSG's freefall.
The safest thing to do would be to wait for the CPI rate to begin declining from its most recent reading of 7.5% and for employment in HCSG's industry to pick up before buying. But by then the price of HCSG might have rebounded.
Ultimately, given the severity of the selloff (71% below its 2018 peak and roughly 50% below its February 2021 price), it's hard not to conclude that the current price is a good entry point.