Hospitals are using Amazon Alexa and Echo to help patients – Fast Company
Amazon's Alexa is moving into hospitals. On Monday, the company announced that it will now support scaled launches of its devices inside both healthcare systems and senior living facilities.
"When the pandemic first changed all of our lives, we had a number of healthcare institutions reach out to us and ask if there was a way we could help with some of the challenges they were having, particularly related to shortage of personal protective equipment," says Aaron Rubenson, VP of Amazon Alexa. That kicked off a roughly yearlong pilot of Amazon Alexa inside care facilities, such as hospitals. Doctors used Alexa's intercom-like feature to communicate with patients without having to go into their rooms and to conduct check-ins. Using Alexa to conduct rounds meant nurses and doctors could more judiciously use protective gear when it was in short supply.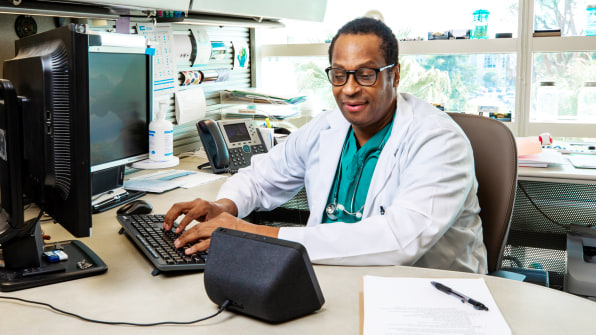 Hospitals that are using Amazon Alexa include Northwell Health, Cedars-Sinai, BayCare, and Houston Methodist. Now Amazon, through its Amazon Properties program, is making Echo devices and the Alexa assistant available to hospitals broadly. Amazon already makes the Echo available to hotels, apartment buildings, and vacation rentals, and recently announced plans for a custom "Hey Disney" service for Walt Disney World's resorts.
In hospitals, Rubenson says, the devices allows patients to send messages and requests to the nursing staff, rather than hitting the call button every time they need something. It also enables nurses and doctors to communicate with patients through its "Drop In" feature.
Hospitals can also build their own Alexa skills for their specific needs. For instance, the hospital may develop an Alexa skill for communicating discharge plans to a patient. Alternatively, the hospital might develop an Alexa skill for conducting digital rounds.
The privacy factor
Hospital stays are immensely sensitive events, and very private information is discussed in hospital rooms. That has implications for Alexa, especially given that all the processing necessary for the service happens on Amazon servers. In order to maintain patient privacy, hospital patients will not be able to contact family members using the Echo. "Amazon doesn't have any personal information about either the resident or patient that's using the service, to us its an anonymous user," says Rubenson. "By design, this solution is anonymous just given the particular nature of these interactions."
Alexa became HIPAA compliant in 2019. That same year, Bloomberg reported that Amazon workers were actively listening to samples of Alexa users' audio in order to improve the service. Rubenson says that Amazon never stores audio from patients after it's processed. Neither hospital staff nor property managers have access to audio recordings, though they do get an aggregated report of how patients and residents are using their devices.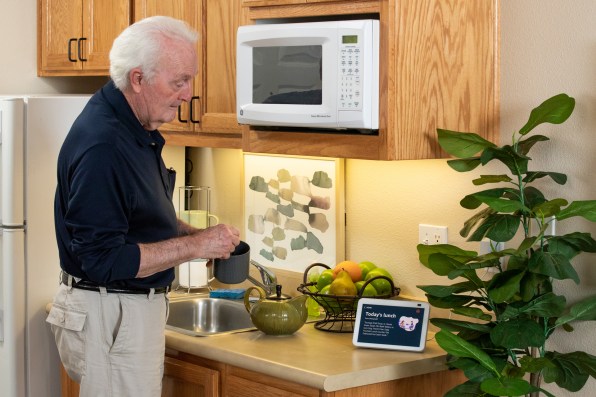 Amazon is also expanding into senior living communities, such as Eskaton in California. In residential settings, Alexa is slightly more personalized. Residents can have a call list of close family members and friends. In this space, Alexa also reminds residents to take medication or review meal options for the day. Like in the hospital, care providers can "Drop In" to check on residents. Residents will also have the option to mute their Echo device to prevent it from continuously listening.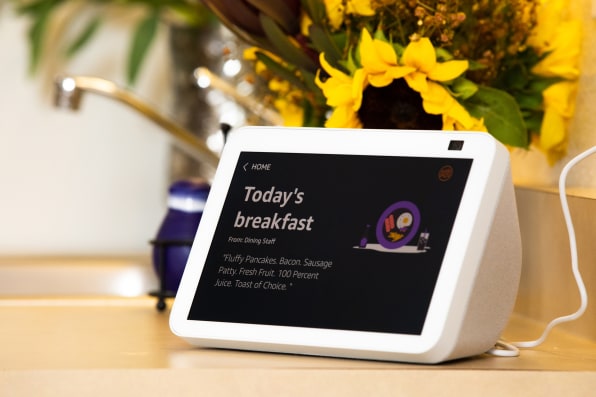 The push into hospitals and assisted living is yet another extension of the ways in which Amazon is slowly worming its way into the healthcare system. Amazon Web Services supports hospital networks, such as Children's Health Orange County, and the U.K.'s National Health Service. As Moody's senior retail analyst Charlie O'Shea told Fast Company earlier this year, the next big move for Amazon will be creating new products that help hospitals become more efficient and effective. It seems that Alexa is just that latest service layer.