How the Adams Administration and New City Council Must Uplift LGBTQ Older New Yorkers – Gotham Gazette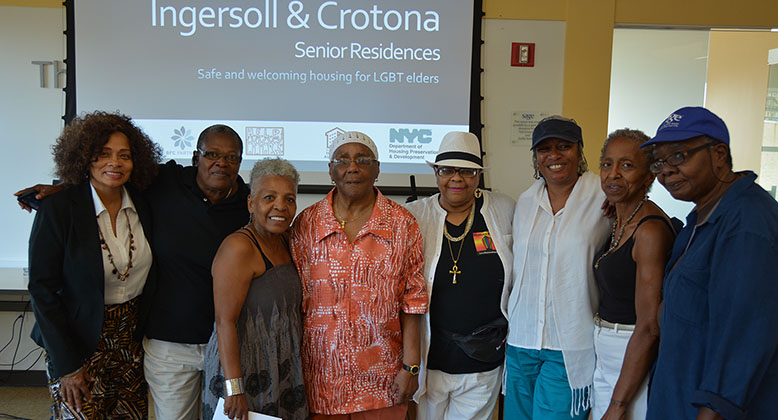 Celebrating LGBTQ-friendly senior housing (photo: SAGE)
---
Today, too many older New Yorkers remain invisible. Older people in New York City are often cast aside, despite their incredible civic, economic, and political contributions to our communities and the fact that the 60-and-over population is growing five times faster than the under-18 population.
This is especially true for lesbian, gay, bisexual, transgender, and queer/questioning (LGBTQ+) elders, who make a strong presence in New York. Of the estimated 800,000 LGBTQ adults in the State, nearly one-third (28%) are over the age of 50.
Sadly, many are often disconnected to critical services, such as LGBTQ-affirming health services and affordable housing, to safely age in communities.
Fortunately, New York City is now experiencing a moment of political transformation. With the Mayor Eric Adams administration ready to take the helm, and a historically diverse City Council on deck, now is the opportunity to reimagine our city.
To start, the city will need to promote equity and dismantle discrimination based on race, sexual orientation, gender identity, and other biases to create a New York where we can all thrive as we age.
It's also time to address the growing disparities in health, economic security, caregiving, and social connections impacting all older adults, including the LGBTQ+ community, and implement policies, initiatives, and programs that protect and support New Yorkers of all ages.
But we must do more than the bare minimum to ensure older New Yorkers, especially LGBTQ+ elders, age successfully.
For decades, the city has fallen short of providing human service providers with the adequate funding to meet the growing demands for aging services and ensure all older people can continue to thrive in their communities. To truly support older New Yorkers, the city must finally fully fund services that address the root of disparities and social determinants of health impacting older adults, including the LGBTQ+ community. That's what the #JustPay movement is seeking.
In addition, LGBTQ+ older people have thinner support networks, which is supported by AARP Foundation research that found half of LGBTQ adults aged 45 and older are lonely, and intersecting identities only exacerbate the prevalence of loneliness. This creates a growing demand for LGBTQ+ affirming community-based services and culturally-competent care in understanding the challenges of LGBTQ+ elders. 
These services include LGBTQ-affirming housing developments, access to affordable healthcare services, programs that support individuals living with HIV/AIDS and other community-based services such as Older Adult Centers and Naturally Occurring Retirement Communities. 
The incoming administration must also take steps to ensure all older people have access to safe, accessible housing.
With rising rent prices, over half of older New Yorkers are rent-burdened, spending more than 30% of their income on rent. Today, nearly one-third of LGBTQ+ older people live at or below 200% of the federal poverty level, compared to a quarter of non-LGBTQ+ people as shown in the recent SAGE and AARP New York report, "Disrupting Disparities: Solutions for LGBTQ+ New Yorkers Age 50+." 
In response, New York City must double down on its efforts to expand the stock of affordable senior housing by funding and developing new affordable housing developments, including those with culturally-competent services and LGBT+ affirming housing.
Further, older people and LGBTQ+ New Yorkers in particular will remain invisible until New York City enhances its efforts to collect, analyze, and report LGBTQ+ and age-inclusive data. The lack of data puts policymakers in unknown territory as they craft policies that have the potential to significantly affect the lives and wellbeing of older and LGBTQ+ people.
The city must aggregate and report on what exists, then look to find ways to add data collection on the needs of LGBTQ+ and older New Yorkers into existing agency assessments citywide.
Older New Yorkers built our city. They are the trailblazers of the LGBTQ+ movement who stood at the Stonewall Inn and refused to be invisible.
It is past time for the city to stand with them.
As we look ahead to the incoming administration, SAGE and our partners at LiveOn NY are ready to work with the city to uplift these pioneers and create a better New York City for everyone — regardless of who they are or who they love.
***
Lynn Faria is Executive Vice President at SAGE and Allison Nickerson is Executive Director at LiveOn NY. On Twitter @sageusa & @ANickerson25 of @liveonny.
***
Have an op-ed idea or submission for Gotham Gazette? Email This email address is being protected from spambots. You need JavaScript enabled to view it.