Lincoln National (LNC) Boosts Suite With In-Plan Income Solution – Zacks.com
Lincoln National Corporation (LNC – Free Report) recently introduced Lincoln PathBuilder Income powered by YourPath in a bid to insert the assured monthly lifetime income feature within YourPath target-date portfolios.
The solution utilizes automatic plan design features comprising qualified default investment alternatives (QDIAs), automatic enrollment and automatic deferral. Consequently, the "auto income" feature will be linked with one's target-date portfolio as a result of which retirement plan participants will obtain a secure source of income on retirement.
A target-date portfolio is selected after taking into consideration the expected retirement date. Activation of Lincoln PathBuilder Income is expected to shield the target-date portfolio balance from market downturns. The new solution offers the fluidity to decide the time when a participant desires to start obtaining income from one's retirement plan. Beneficiary protection option accompanies the recently launched solution by virtue of which participants can transfer any leftover account value to their close ones.
The new solution is expected to boost plan savings rates and pave the way for enhanced retirement plan outcomes. It can persuade non-participants to undertake increased savings in employer-sponsored retirement plan.  Around 50% of interested participants stated they will be more eager to take part in a retirement plan on inclusion of in-plan income as an option.
The recent move reinstates Lincoln National's efforts to expand its in-plan protected income solutions portfolio and offer a desired retirement life to Americans. The solution seems to be time opportune as well since there has been a growing demand for in-plan investment options. Per 2021 Lincoln Retirement Power Study, over 70% of retirement plan participants showed inclination toward in-plan investment option offering assured income, while half of the interested participants stated that a guaranteed income option can give a boost to their contribution.
Retirement savers are currently more concerned with savings than prior to the COVID-19 pandemic, which in turn, has led to rise in demand for retirement solutions that provide guaranteed income. The current scenario with only one-third savers being confident about their savings lasting through lifetime, which remains a lingering concern of Americans, lays the perfect ground for the new solution to capitalize on. An aging U.S. population reflects the dire need of enhanced retirement plans. Per Statista, the American population aged 65 years or older formed around 16.5% of the total population in 2019. Adding to the woes, the aging population is likely to make up 22% of the total population by 2050.
Time and again, Lincoln National has left no stone unturned in rolling out solutions aimed at providing a comprehensive financial planning for retirees and working individuals. The life insurer leverages its retirement, insurance and wealth protection expertise to cater to the financial goals of over 17 million customers. It has several variable universal life (VUL) insurance offerings in place to address diversified financial goals of the company's huge client base. These initiatives are likely to benefit the company's Retirement Plan Services business in the days ahead.
Zacks Rank & Price Performance
Shares of this Zacks Rank #2 (Buy) life insurer have gained 52.1% in a year compared with the industry's growth of 5.9%.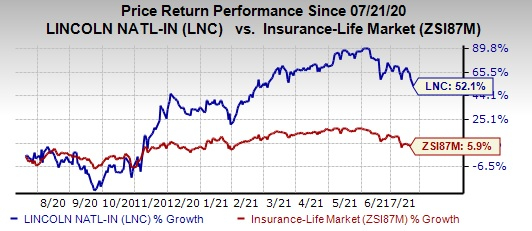 Image Source: Zacks Investment Research
Other Stocks to Consider
Some other top-ranked stocks in the insurance space include Brighthouse Financial, Inc. (BHF – Free Report) , Primerica, Inc. (PRI – Free Report) and MetLife, Inc. (MET – Free Report) , each carrying a Zacks Rank #2. You can see the complete list of today's Zacks #1 Rank (Strong Buy) stocks here.
Brighthouse Financial, Primerica and MetLife have a trailing four-quarter earnings surprise of 16.44%, 8.11% and 18.16%, on average, respectively.