Music for Singers with Alzheimer's Disease – Alexandria Gazette Packet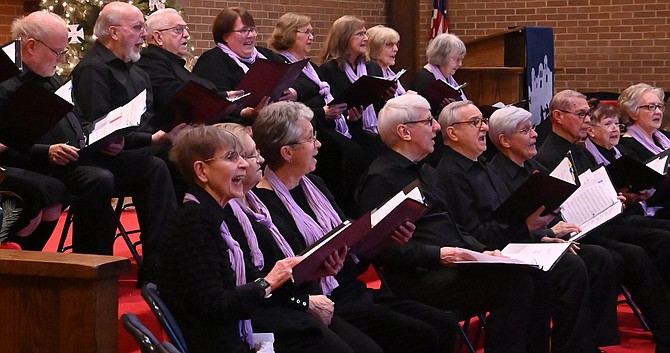 Encore Sentimental Journey Singers performed a concert in Fairfax, Virginia. The Sentimental Journey Singers program is a chorus for those who have been diagnosed with early or beginning moderate Alzheimer's and other memory impairments. Photo Credit: E. David Luria
When Peter Midgley and his wife went on their first date, they discovered their mutual love of music. In fact, they were both members of the same choir. When the couple married and had children, melody-making became a major part of the family's everyday life. Though Midgley has been diagnosed with Alzheimer's Disease, the tradition of music is still a part of his life thanks to his adult daughter Debbie Caramella and the Sentimental Journey Singers program, a chorus for those in the early or beginning moderate Alzheimer's and other memory impairments.

"We learned of SJS through the adult day center my dad was attending. It seemed like the perfect fit for us because music has been a part of our family story since before we were a family," said Caramella who, as her father's caretaker, is also part of the choir. "Besides the benefits of the physical, social, and cognitive engagement that the choir provides, we have discovered that when we sing together, Alzheimer's loses its grip, and we are just a dad and a daughter enjoying what we have all our lives."
The program is part of Encore Creativity for Older Adults, a choral program for singers 55 years of age and older. Sentimental Journey Singers will begin operating in September in Montgomery and Fairfax counties.
"Music brings pure joy no matter where we are in life, but when there is a diagnosis of Alzheimer's or another memory impairment, music taps into another part of the brain and it's one of the last things to go," said Anita Irvin, Executive Director, Insight Memory Care Center. Insight clients have joined Sentimental Journey Singers. "There are so many mental and social benefits from music and we saw such a positive experience from our participants that joined the choir. They very much looked forward to the rehearsals."
The season begins in September with rehearsals for the group's holiday concert. Singers and their caretakers will sing in three-part harmony. Group members will enjoy the social aspect of choral singing while learning healthy vocal technique skills.
"Alzheimer's is a very lonely disease. It's usually you and your caregiver, so when these singers come out every week, the social interaction means a lot to them," said Jeanne Kelly, Founder and Artistic Director of Encore Creativity. "The experience will offer teamwork, confidence, a lot of fun and incredible joy."
Tuition for 15 weeks of rehearsals is $190 and includes sheet music, rehearsal CD, and a December concert performance for family and friends that is free and open to the general public. There are no auditions and Encore is hopeful that all care partners will also sing. There will be 15 rehearsals led by Mary Ann East, Ph.D., an Encore conductor who is also the music director at Community of Faith Methodist Church in Herndon, Va. and the Co-Founder and Director of the Capital Harmonia Community Women's Chorus.
For More Information
Anyone who is interested in the Sentimental Journey Singers program, or other Encore choral programs, can visit https://encorecreativity.org/ to learn more and to register.
Sentimental Journey Singers Strathmore
Mondays – 10:00-11:30 am – beginning September 13
Strathmore Music Center, 5301 Tuckerman Lane, North Bethesda, MD
Sentimental Journey Singers Fairfax
Wednesdays – 10:00-11:30 am – beginning September 8
Community of Faith UMC, 13224 Franklin Farm Road, Herndon, VA