National Health Investors: More Than Just A Fat 6.7% Yield – Seeking Alpha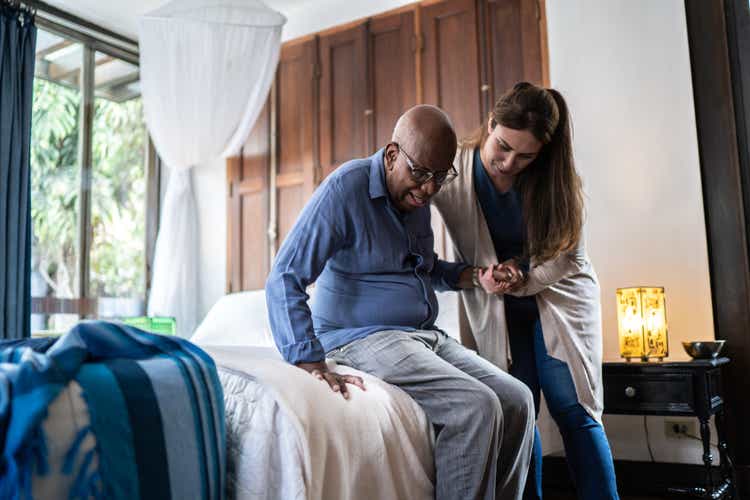 National Health Investors, Inc. (NHI) is more than meets the eye. The REIT is aggressively restructuring its portfolio and may see NOI growth once the portfolio repositioning is completed. The stock price has dropped significantly in recent months, and NHI now offers a 6.7% yield that investors should not pass up.
Sell-off Is Overdone
National Health Investors is undergoing a significant portfolio repositioning, and investors should soon catch up on the deal that NHI offers. Healthcare-related issues, such as Covid-19, have fueled a year-long decline in NHI's stock. Despite the fact that the real estate investment trust is making rapid progress with its portfolio restructuring, the stock is down significantly from last year.
Restructuring Could Drive A Higher Stock Value
National Health Investors is a healthcare REIT with a portfolio that includes senior housing, skilled nursing facilities, medical office buildings ((MOBs)) and specialty hospitals. In September, the trust's portfolio included 222 properties, the vast majority of which (144) were senior-housing facilities.
Furthermore, National Health Investors' real estate portfolio included 75 skilled nursing facilities, 2 hospitals, and 1 medical office building. In terms of asset share, senior-housing facilities account for 63% of all assets, while skilled-nursing facilities and MOBs account for 34%.
In the third quarter, National Health Investors' portfolio generated $233.8 million in annualized cash revenue, with senior-housing properties accounting for the lion's share. On an annualized basis, these properties generated $145.6 million, or 62% of the trust's total cash revenues. Medical facilities, which include skilled-nursing facilities, hospitals, and medical office buildings, accounted for the second-largest portion of revenue: $88.2 million, or 38% of annualized revenue.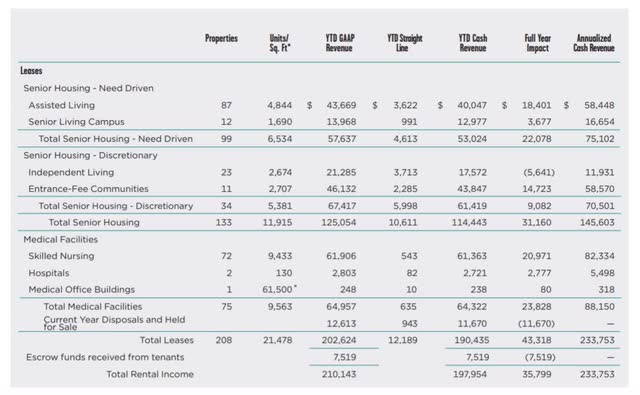 Portfolio Restructuring
The Covid-19 pandemic had a significant impact on the healthcare market, particularly in segments focused on providing services to seniors. Many healthcare REITs were impacted by the pandemic, which resulted in deteriorating operator health, falling occupancy rates, and a decrease in the number of rents collected. National Health Investors' primary focus on senior-living facilities, which were especially hard hit by Covid-19, created significant revenue headwinds for the company in 2021, forcing the trust to defer $34 million in rent payments.
These revenues, at least in part, could be recovered in the future if the senior-housing sector continues to recover. To offset current revenue headwinds, National Health Investors is divesting of senior-housing facilities, resulting in greater diversification, more stable net operating income, and less exposure to the SHF sector.
According to the progress report for the trust's portfolio restructuring, the trust already divested $172.6 million in senior-housing facilities in 2021, with more to come in 2022. The trust is also in talks to finalize the sale of another 21 senior living communities, which could net it another $150 million.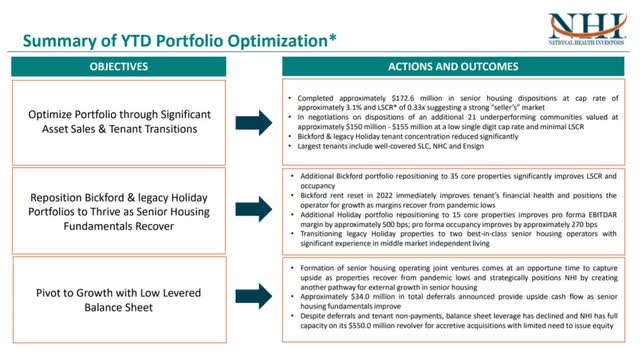 National Health Investors sold 19 facilities in 2021, earning a net profit of $216.0 million. Sixteen of the nineteen assets sold were senior housing facilities. National Health Investors intends to continue divesting underperforming assets, particularly those related to its senior-housing segment. The trust may even pursue new NOI-accretive acquisitions once the portfolio restructuring is completed, which could occur in 2022.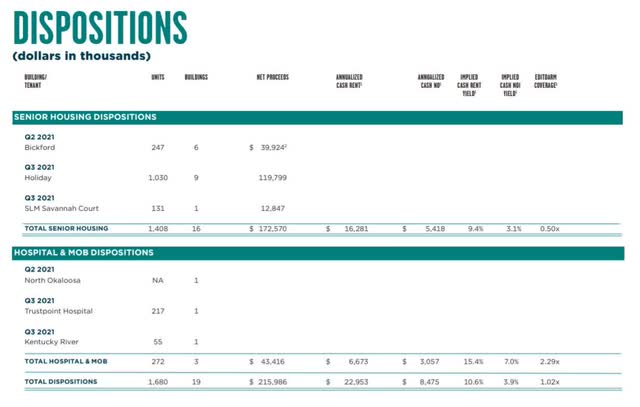 The sale of senior housing facilities will undoubtedly reduce the trust's rental revenues and cash net operating income (NOI). Landlords use cash NOI to show how much cash a property generates.
As National Health Investors divests more senior-housing facilities, a new baseline for cash NOI will be established, which could be in the $55-$60 million range quarterly, implying a 10% decrease from current cash NOI levels. National Health Investors' cash NOI is expected to fall 8.6% in 2021 as a result of asset dispositions. However, the portfolio restructuring is expected to be completed in 2022, at which point the trust may be able to generate single-digit cash NOI growth once more.

Balance Sheet And Liquidity
The capital structure of the trust appears to be in good shape. National Health Investors has access to substantial cash resources, and fixed charge coverage ratios improved in 2021, implying that the trust can easily meet its financial obligations. The fixed charge coverage ratio (5.4x for NHI in 2021) indicates whether a company is likely to make on-time fixed charge, debt, and interest payments. A ratio greater than 3.0x is considered excellent.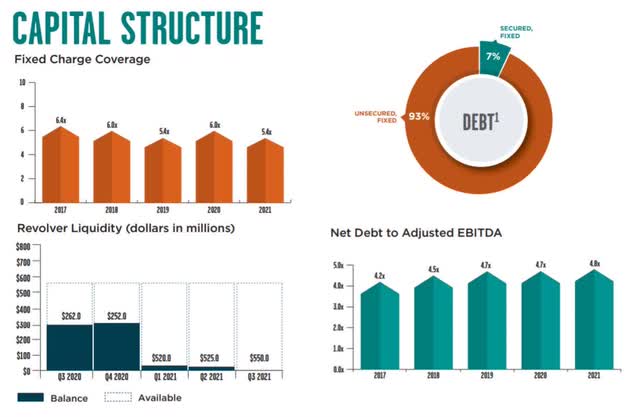 Pay-Out Ratio And Dividend
National Health Investors' pay-out ratio has fluctuated very little over the last year, owing to the trust's relatively predictable rental cash flows and high-quality leases (tenants). National Health Investors' funds from operations-based pay-out ratio has ranged between 78% and 89% in the last year, indicating that the dividend is not in jeopardy and may even increase once the trust completes its portfolio restructuring.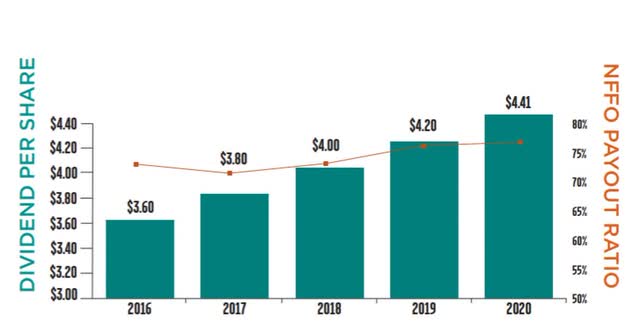 The trust currently pays out $0.90 per quarter, for a total annualized payout of $3.60. Due to portfolio issues and deferred rental payments, National Health Investors cut its dividend by 18.4% in June 2021. The dividend cash saved, estimated at around $28 million in 2021, was used to support National Health Investors' portfolio restructuring.
My Conclusion
I believe that the sell-off in National Health Investors is overdone. The trust is working hard to rebalance its real estate portfolio, and it has already made significant progress in this regard. When the restructuring is completed, which is expected in 2022, the trust may enter a period of growth.
Investors have every reason to believe that accretive acquisitions and NOI growth will resume in this case. I do not anticipate a dividend increase in the near future, but I believe that the current stock yield of 6.7% will provide investors with consistent dividend income for many years to come.
This article was written by
A financial researcher and avid investor with a keen eye for innovation and disruption, as well as growth buy-outs and value stocks. Keeping an eye on the pace of high tech and early growth companies, I write about current events and the biggest news surrounding the industry, and strive to provide readers with ample research and investment opportunities.
Disclosure: I/we have a beneficial long position in the shares of NHI either through stock ownership, options, or other derivatives. I wrote this article myself, and it expresses my own opinions. I am not receiving compensation for it (other than from Seeking Alpha). I have no business relationship with any company whose stock is mentioned in this article.