PC votes against Woodpark rezoning | News | dailyprogress.com – The Daily Progress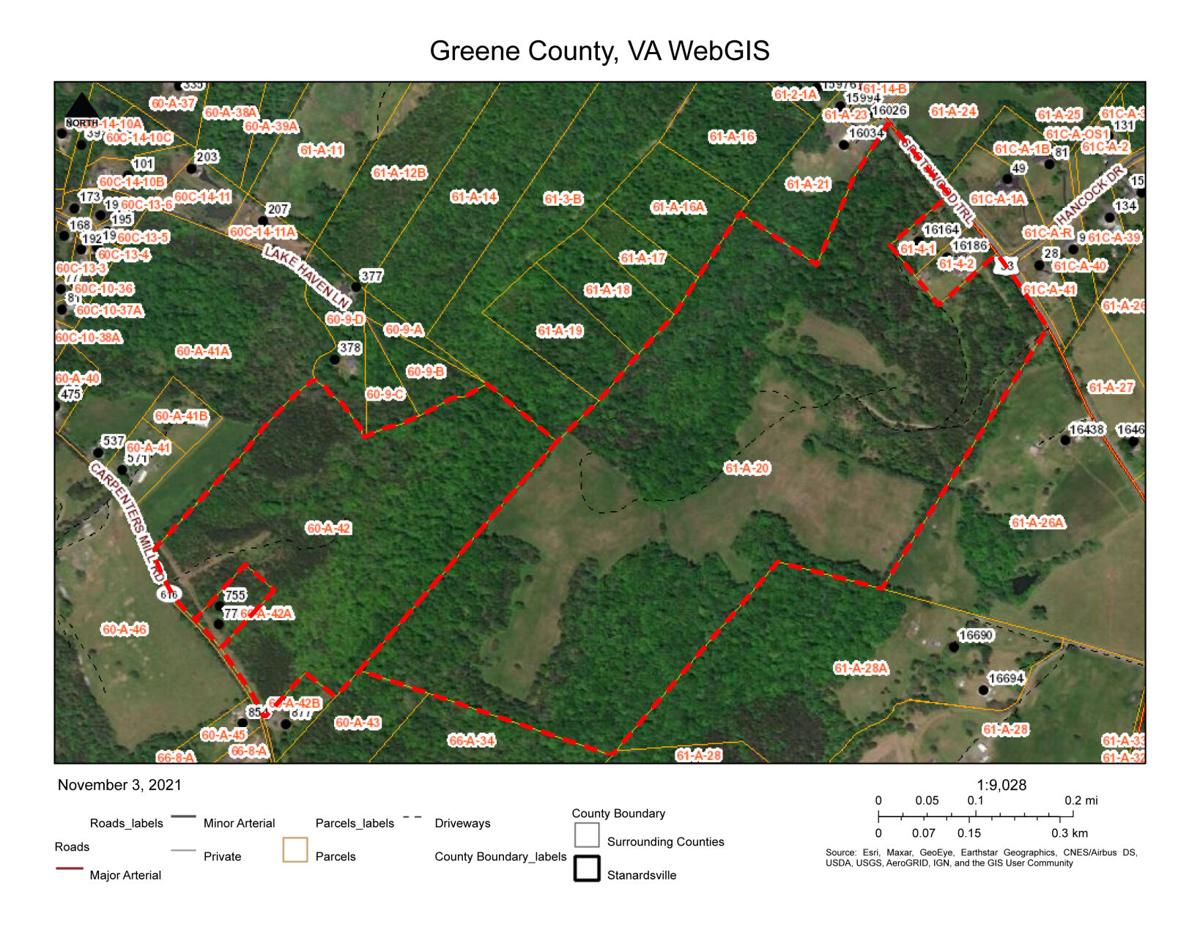 The Greene County Planning Commission recommended denial Nov. 17 for an application to rezone 172 acres off Spotswood Trail and Carpenters Mill Road from Senior Residential zoning to Planned Unit Development (PUD) zoning. The three parcels included in the Woodpark LLC development were rezoned in 2004 and 2007 to accommodate 600 senior residential units, which have not yet been built. Greene County Planning Director and Zoning Administrator Jim Frydl presented the proposal and Charlie Armstrong of Southern Homes Development was on hand to answer questions.
"This is probably one of the most comprehensive residential applications we've received, including all the amenities and the things that people talk about in our Ruckersville Advisory Committee, so it does meet all of those goals listed within our comprehensive plan and matches our growth area," Frydl said. "In this scenario, the 600 units are already approved, so changing the 600 units to residential PUD—which allows anyone to move in—does come with some costs."
Armstrong, who is vice president of land development for contract purchaser Southern Homes, said he felt strongly that the rezoning would create a more attractive housing community for potential buyers, since senior housing neighborhoods can be very restrictive.
"(In senior communities,) 100% of occupied residential units must be occupied by at least one person who's 55 or older; guests or children that are 19 years of age or younger are not allowed to reside there and visit for more than 21 days in any calendar year; if mom or dad passes away, their children cannot move into the home themselves, so they probably have to sell," he said. "It's very restrictive. … It was a fad about 20 years ago, but around here regionally, many older people don't want to live where everyone is in the same stage of life. … PUD zoning allows us to create a lifestyle, not just a subdivision."
Armstrong noted that the proposed development includes a variety of housing types as well as a pool, clubhouse, walking trails and sidewalks. He added that he predicts as many as half of the housing units would still be occupied by seniors, but that the rezoning would allow for more flexible options for multigenerational families or single tenants.
The main discussion points for the change in zoning came down to an increase in traffic in the area—Institute of Transportation Engineers standards project that senior housing would generate 2,562 average daily trips versus 4,428 trips for a PUD community—and an increase in the number of school children in such a community.
"The possible impacts of three major intersections where the traffic would get out onto (Route) 29—which is 29/33, Carpenters Mill and Matthew Mill Road—if there is any traffic improvement needed there, this particular application doesn't address that," Frydl said. "So that's a possible cost that's currently unmitigated with the proposal. And then the other thing is, senior residential restricted does not come with school children."
The Weldon Cooper Center for Public Service at the University of Virginia calculates an average of 0.3 children per household among families living in attached single family dwelling units. Given the proposed ratio of different housing types, this could result in 180 additional school children once the housing development is completed—estimated to take six to 10 years. The recent facilities study completed by Greene County Public Schools indicated that Ruckersville Elementary School is already operating at or beyond capacity, and efforts to begin planning for an additional school in the area are still in the theoretical stages.
While the upcoming Virginia Department of Transportation (VDOT) project to widen the Route 29/33 intersection may help to alleviate some additional traffic from the proposed neighborhood, several residents living near the property voiced their concerns about adding even more traffic to the area.
"PUDs double daily trips … and frankly, Routes 33 and 29 cannot handle the current flow of traffic," said Stanardsville resident Paige Roberts during the public hearing. "There's also a decrease in affordable housing options. The average Greene County resident cannot affording housing prices from $300-450,000, which is what we're talking about right now—which leads me to wonder what the intent is here. Are we now going to become the official bedroom community for Charlottesville?"
Roberts also pointed out that burdens on emergency services and water utilities are already under stress and that another development with 2,000 houses is already slated to be developed in the next few years in the same area.
"As of Aug. 3, there are already 2,082 residential units approved for development," resident Doug Roberts wrote in an email to the board. "Our county does not have the infrastructure and resources to handle this type of growth as it is. In speaking with Sheriff (Steve) Smith, he readily admits his department lacks the manpower to address the current demands on our emergency services. Rezoning from senior residential to PUD will only stretch our county's resources even thinner."
The commissioners agreed with the public comments.
"While this fits within our comprehensive plan, I look at what we have previously recently approved," said Commissioner Mike Traber. "We recently (approved) another 2,082 potential residences in the community. Without existing changes to the infrastructure … it just, to me, is a net loss right now for us. Overarching that, I can't justify the increase in traffic and the increase in potential students."
"I think right now, while I support the project and I support the road, it's bad timing," said Commissioner Steve Kruskamp. "I think we, as a county, have some work to do. I think the current density of housing that we've approved here recently is significant and we need to see how that plays out."
Armstrong told the commission that if the rezoning is denied, his company may choose not to build on the property.
"I'll put it this way: if it's senior residential, I'm not sure we're going to do it right now," Armstrong told the commissioners. "We are the contract purchaser; we have not yet bought it. Our participation is with the development we're proposing tonight. It might stay with [owner Fried Companies LLC] if it stays senior residential—I don't know what they will do, but our interest is to create something more vibrant."
Traber motioned to recommend denial of the rezoning and Kruskamp seconded. The proposal will be presented to the board of supervisors with another public hearing during its Dec. 14 meeting before the final vote.
Get local news delivered to your inbox!