Resolution to sell nursing homes causes stir at Legislature – Olean Times Herald
.Flows on area creeks and rivers are already running high from recent rainfall. Additional rainfall and snow melt during Tuesday and Tuesday night will cause flows to increase and may result in flooding.  ...FLOOD WATCH REMAINS IN EFFECT FROM TUESDAY AFTERNOON THROUGH WEDNESDAY EVENING...  * WHAT...Flooding caused by rain and snowmelt continues to be possible.  * WHERE...A portion of western New York, including the following counties, Allegany, Cattaraugus, Chautauqua, Genesee, Livingston, Monroe, Niagara, Northern Erie, Orleans, Southern Erie and Wyoming.  * WHEN...From Tuesday afternoon through Wednesday evening.  * IMPACTS...Flows are already high on many area creeks and rivers, and the combination of snow melt from warm weather and rainfall on Tuesday and Tuesday night will cause water levels to rise again. This will bring the risk of flooding along some rivers and creeks due to high flows.  * ADDITIONAL DETAILS... - Between a half inch and an inch of rain is expected Tuesday afternoon through Tuesday night. This combined with warm weather will result in snow melt, with a primed snow pack in place across the headwaters for most creeks and rivers in the watch area. This will result in rises on larger creeks and rivers, and potentially will cause flooding at some flood prone areas. - http://www.weather.gov/safety/flood  PRECAUTIONARY/PREPAREDNESS ACTIONS...  You should monitor later forecasts and be alert for possible Flood Warnings. Those living in areas prone to flooding should be prepared to take action should flooding develop.  &&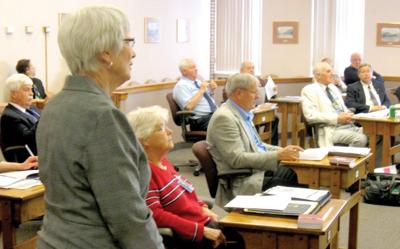 LITTLE VALLEY — A resolution to hire a consultant to look into selling the Cattaraugus County nursing homes in Olean and Machias was referred by county legislators Wednesday to the Senior Services and Finance committees.
The resolution, which was only introduced near the end of Wednesday's meeting for immediate consideration, was sponsored by 15 legislators including the entire Senior Services Committee. It authorized seeking proposals for a consultant to help county officials evaluate options for the operation, management and/or sale of skilled nursing facilities.
Ironically, earlier in the meeting, Legislature Chairman Michael O'Brien issued a proclamation declaring May National Older Americans Month and the week of May 8 to 14 National Nursing Home Week in Cattaraugus County.
Olean Republican James J. Snyder urged fellow county lawmakers to refer the resolution to committee.  "Why go through this exercise when there's nobody who would vote for it? To suggest we're going to look at selling these nursing homes and get a whole lot of people upset makes absolutely no sense to me when we're not going to do it."
* For complete stories, subscribe to the Olean Times Herald E-Edition. Please note that the e-Edition is separate from this partial listing. You have to log in under HOME and E-EDITION at the top of the web page. The e-Edition is in a PDF format.
Ads to Go
Would you like to receive our ads to go? Sign Up Today!
Breaking News
Would you like to receive our breaking news? Sign up today!
Circulation Promotions and Contests
Want to receive notice about our circulation promotions and contests?  Sign Up Today!
Coronavirus Updates
Get the latest local and national news.
Daily Headlines
Would you like to receive our daily headlines? Sign Up Today!
Lifestyle
Would you like to receive our lifestyle headlines about food and wine, Olean living, local history and more? Sign Up Today!
Local Weather
Get our expert short-term forecast, summary of the weather details and news of any severe weather.
Obituaries
Would you like to receive our latest obituaries? Sign Up Today!
Sports
Would you like to receive our sports news? Sign Up Today!