Retirement community, more retail coming to Oak Hill/Sullivan area – Newnan Times-Herald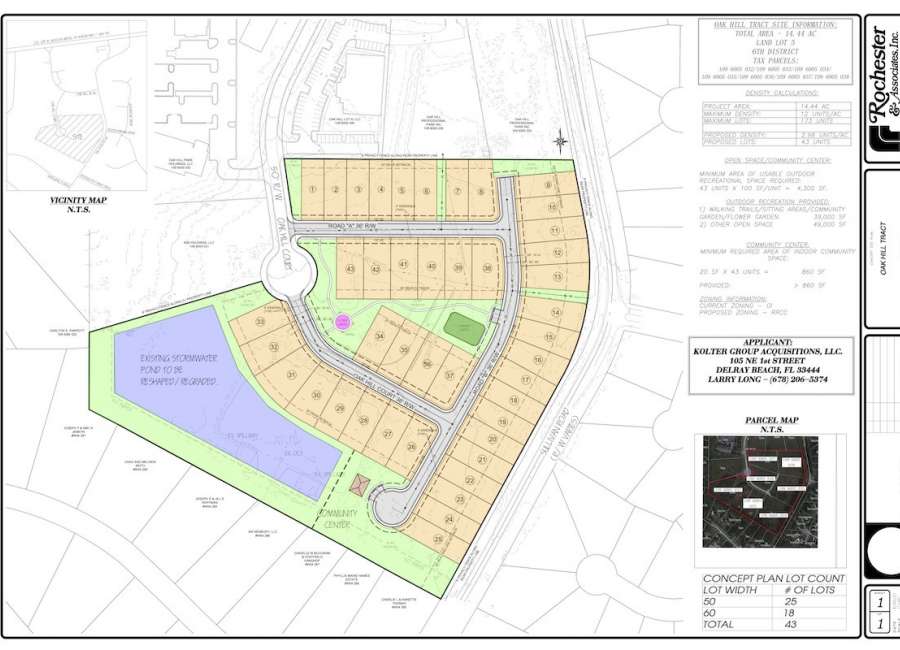 The Kolter Group
This site plan shows the proposed layout of an active senior community to be built at the rear of the Oak Hill Professional Park.
New developments, including a retirement community and retail/office buildings, are planned for the Oak Hill/Sullivan Road area.
An "active adult" community with 43 units is proposed for 17 acres on the south end of the Oak Hill Professional Park. The commissioners voted to approve a rezoning of the property from Office Institutional to the county's Residential Retirement Community Care District for the development.
The development will incorporate seven lots in the professional park. The land adjoins the Springfield and Wexford Subdivisions and is across Sullivan Road from Woodstream.
The community is proposed to include a 860 square foot community center and walking trails, sitting areas and gardens.
Though 17 lots will back up to Sullivan Road, there will be no vehicular access from Sullivan, instead all access will be from the professional park. Lots will be set back 50 feet from Sullivan Road and there will be a perimeter fence.
The commercial area is located on 3.26 acres fronting Highway 34 East. The tract is between the Oak Hill Professional Park and the commercial development at Sullivan Road.
Commissioners voted to rezone the property from Rural Conservation to C-6, Commercial Minor Shopping District.
A conceptual site plan shows the property being separated into two lots, with a 20,000 square foot retail space with right-in, right-out access onto Highway 34, and a 12,000 square foot professional building with primary access off Sullivan Road.
Interconnectivity with Oak Hill Professional Park is proposed.
The developers of the retirement community, the Kolter Group, requested 10 variances, and all were approved by the commissioners.
One request was to do away with the requirement for accessible building designs. Under the RRCC, homes must have 36 inch doors for wheelchair accessibility, step free access to the main areas, and 3/4 inch plywood in bathrooms to allow for the future installation of grab bars, if they become necessary.
The developers asked to have those as a purchase option, not a requirement.
The Coweta Board of Zoning Appeals had voted to recommend denial of the variance request except for the door with requirement. The board voted to recommend allowing 32 inch doors, as long as they have a five-foot radius.
The Americans with Disabilities Act requires a door with a 32 inch clear opening. The clear opening is typically smaller than the door size.
Commissioner John Reidelbach said that the development is being sold as an "active adult" community and he thinks the wheelchair accessibility standards should be an option for buyers, not a requirement. The options must be presented as part of the sale package, Reidelbach said.
Commissioner Paul Poole disagreed.
Poole said he recently had to use a wheelchair for a time, and a walker. "A 32 inch door – you can't get through it safely," he said. "I hope you never have to be in a wheelchair because those extra inches go a long way."
Poole said he thinks the 36 inch doors should be a standard safety feature for a 55-plus community.
Commissioner Tim Lassetter said it's likely all the commissioners have 32 inch doors in their homes. Having that size door "was my decision but at least I have that option," he said.
But when they bought their homes, it wasn't in a 55-plus community Poole said.
"I think what we are missing here is this is an 'active senior'"development, said Reidelbach.
"That's a way to get around it. That is all it is," Poole replied.
Reidelbach said when visiting similar communities he saw residents playing pickle ball and tennis and in the gym. "I don't see one person in a wheelchair," Reidelbach said.
Poole said the wider doors and flat entrances don't cost much more.
"In a 55-plus that should be part of it," he said.
Another variance request was to reduce the minimum lot size from 8,500 square feet to 6,500 square feet.
The motion to approve the variances passed 3-2 with Poole and Commissioner Al Smith opposed.