Still Seeking Fun in Retirement? Pursuing Goals and Dreams in a Post-Pandemic Retirement – The Ticker Tape
The COVID-19 pandemic may have clouded retirees' views on pursuing their retirement dreams. Some might be rethinking views on gathering in crowds and heading to foreign destinations.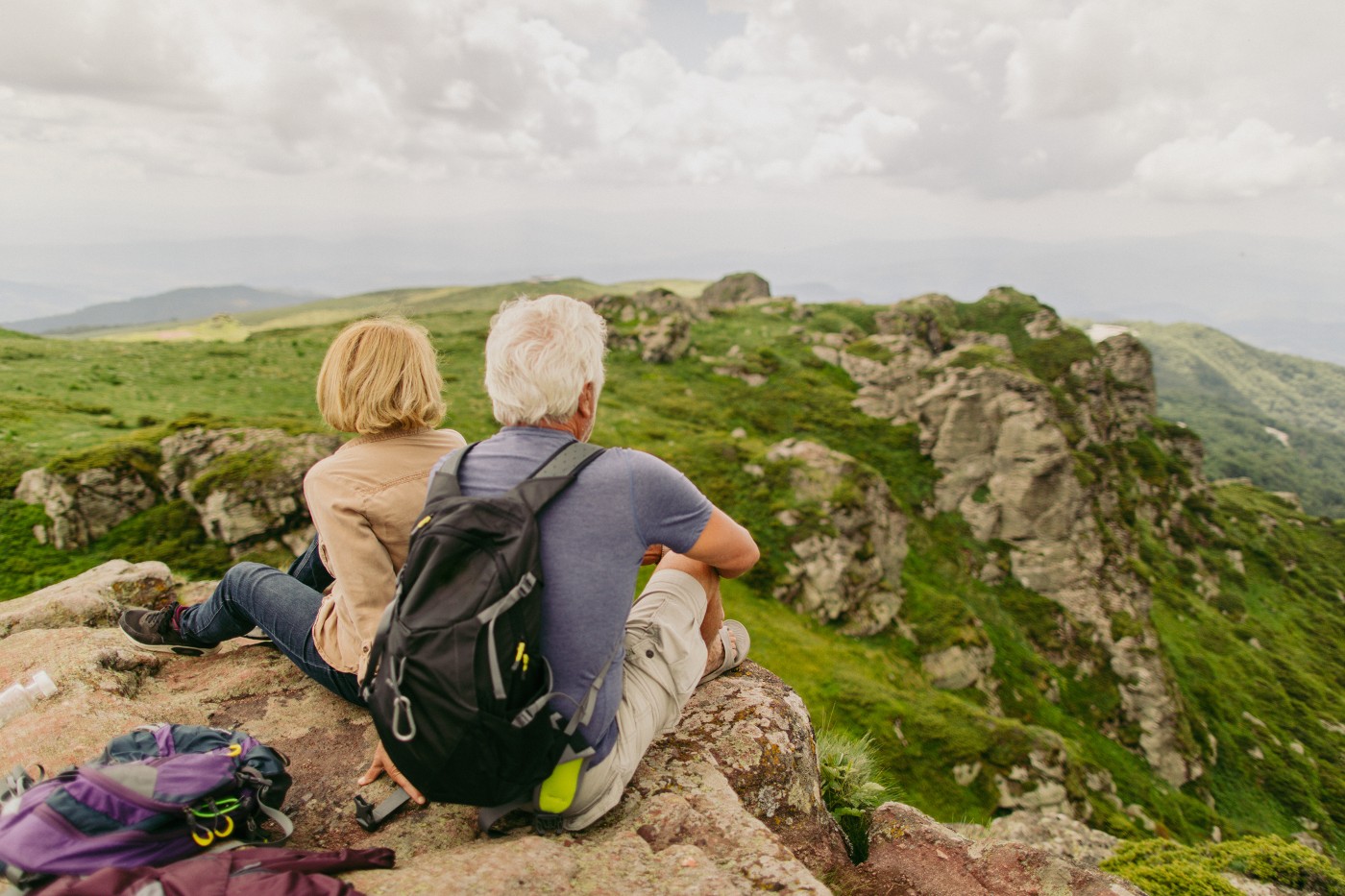 5 min read
Photo by Getty Images
Key Takeaways
The COVID-19 pandemic may have changed some retirement plans, but not retirees' overall dreams

If you've planned for what you need, leftover retirement money can be for what you want

Find out how you can potentially work a splurge or two into your retirement plan
The COVID-19 pandemic upended life for most of us; that much is a given. But for those in or nearing retirement, it hasn't stopped them from dreaming about fun in retirement. Sure, any immediate plans of traveling abroad or packing onto non-socially-distant cruise ships are limited for the time being—and some may be in no hurry to rejoin the crowds once restrictions are lifted—but for many retirees, the pandemic only strengthened their resolve in wanting to pursue an active retirement.
So, as you finalize your retirement plan, you'll want to make sure it covers all the necessary expenses: food, housing, medical care, a boat.
Wait, what? Sure, we all need food and a place to live, and it's hard to avoid medical expenses. But a boat? Or an RV?
As you toiled through your working years, you might not have considered such splurges to be a part of your planned retirement expenses. However, if it looks like you have a high possibility of satisfying your basic retirement needs, you can start moving down the list to things you want or wish to do.
In fact, if you're looking at a luxury version of the hashtag #vanlife, and you prepare and plan carefully, you might ultimately be able to pencil in "RV payments" on the retirement expenses spreadsheet right along with groceries and other everyday items. That four-star-hotel-on-wheels would simply become another data point that's ironed into the plan and accounted for—not something to worry or feel guilty about.
Seeking Retirement Fun? You're Not Alone
Just before the pandemic hit, seven in 10 Americans approaching retirement have either splurged or planned to splurge on something during their retirement years, according to a TD Ameritrade Modern Retirement Survey of 2,000 adults ages 40–79 conducted online by The Harris Poll. The most popular "splurge" items, according to the poll, were dream vacations, vacation homes, luxury cars, RVs, or even a larger home. Yes, some people want to "upsize" rather than downsize in their later years.
To make those desires real, you need to put together a financial plan. You also might need to consider changing how you think about life after work.
Retirement can generally be an enjoyable time, and for many, it's the most enjoyable part of their lives. A lot of the day-to-day toil of going to your job and struggling to raise a family is over, and retirement can be an opportunity to enjoy some of the things you might have been putting off. But flipping the switch to say "This is when I enjoy myself" can be difficult if you're uncertain about meeting baseline essentials or if you can't find a way to spend money on yourself without feeling guilty.
It's important to be careful with your hard-earned savings, but that doesn't mean subconsciously treating yourself with a "No more fun" attitude.
To shed the retirement security worry and add fun items, it's important to understand which expenses are mandatory and which are discretionary and then separate them accordingly. Consider breaking down your retirement spending into needs, wants, and wishes. Make sure you cover your needs first, and then the rest can be for wants and wishes.
How Much Do I Need for Retirement? Cover Your Needs First
Let's take a look at those mandatory items, or "needs." Calculating your wage replacement ratio, or the percentage of preretirement income you'll need in retirement, can be a good starting point. Many mandatory expenses, including transportation, clothing, mortgage, and utility costs (should you choose to downsize) tend to decrease when you retire.
Perhaps the children are grown and living on their own. Plus, you're no longer paying FICA (payroll taxes) and you may not be paying into a company 401(k) plan. Consider planning to have your expenses at 80% to 85% of your salary and adjust from there.
And bear in mind that not all costs fall as you age. Medical costs, for example, tend to increase over the years. And if you require assisted living, these costs can rise significantly. Consider looking into long-term care insurance because it's possible this could become a "need" later in life. 
Another important part of the financial equation in retirement is income. Social Security, pensions, and annuities can provide a steady stream of income, and your 401(k) and IRA will have required minimum distributions (RMDs). RMDs kick in at age 72 for anyone born after June 30, 1949. That's up from the previous age of 70 1/2, thanks to the SECURE Act of 2019, and if Secure Act 2.0 goes through, you could wait even longer. But if you're already 70 1/2 and have started taking RMDs, you need to keep going. 
When planning for your retirement needs, make sure to consider how these income streams will affect your financial security.
Also consider whether you want to leave any money to inheritance, bequests, or charities. The more you want to leave to the next generation, the less you have to spend now. It's about finding the right balance for each individual. That's part of the planning process—not just putting numbers on a page, but also thinking it through so you can prioritize and really understand what's important to you.
Once you've determined the amount of money you need to comfortably pay the bills in retirement and perhaps leave something for the next generation or to charity, it's time to consider the "discretionary" portion of your nest egg—money that you might spend without worry or guilt.
Savor the Possibilities
So, where do you start? Well, what's important to you? Is it travel? Membership in a country club or social club? Are you into the arts? Is there a luxury vehicle you've had your eye on but couldn't justify the spend? If you've cleared your mandatory spending hurdle and have the "fun money" available, why not indulge? But you don't need to be the proverbial kid in the candy store; feel free to ease in. Make a list of which items are most important to you and start at the top.
Once you decide which "fun" items you can and can't live without, it's a good idea to stress test your plan and consider best- and worst-case scenarios. Don't be shy about getting help. If putting a plan together seems daunting, you can always set up a goal-planning session with a financial consultant who can help you start things off.
When you sit down with a financial consultant, you might get a new perspective on your finances from someone who has the experience of helping others. You'll learn new things about your relationship with money, and you'll have a chance to get real about what you hope to accomplish with that money.
At that point, you should feel somewhat confident in going out and executing your plan. If you've walked through the stress test and figured out you have the funds, then buying your boat isn't a luxury—it's simply part of executing on the plan you laid out. It's like having a grocery list and going to the supermarket. You don't feel guilty about buying avocados if they're on your list. You've decided that's what you're going to buy. It's the same thing for that boat or luxury vehicle once it's on the retirement list. You've put your plan together, and you'll follow that plan.
Also, you've done the legwork and figured out what you'll do in worst-case scenarios, such as a downmarket. If the proverbial bears attack, you may have to cut lower-priority items from your list. Maybe it doesn't mean giving up the RV, but you might skip a few fancy vacations if those happen to be lower down on you discretionary spending "priority hierarchy."
But a best-case scenario might also happen. Although there's no guarantee, there have often been more best- than worst-case scenarios for people who saved well and planned. That allows you to include some wishes and not be shy about executing on something you've planned for. You don't have to be sorry if the best-case scenario happens to come through.
Even after walking through best- and worst-case scenarios and accounting for essentials and any money you hope to leave after you're gone, you might struggle to convince yourself that spending your savings isn't "wasting" it. This gets back to the "no fun" line. It's often difficult to get past this, especially if you've attributed your current comfort to decades of delayed gratification, sacrifice, and maximizing value in your spending.
But the pandemic has taught us one thing: The ability to travel, dine, and congregate could be disrupted at any time, so if your budget allows it, you might be inclined to pursue your splurges sooner rather than later. Plus, many experts agree that a certain amount of joie de vivre can help you live a happier, healthier, and even longer life. It doesn't mean it's time for a food fight, but trips to that four-star restaurant and a nomad-style RV ride could still be on your menu.