Waltham Crossings & Waltham Council on Aging Partner to Launch Free Virtual Support Group – PR Web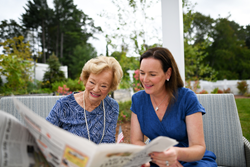 "We hear from families every day who are struggling to provide their loved ones with the care and social engagement they need this winter given the challenges of COVID-19. I'm honored to be able to use my expertise to help people in Waltham and our greater communities." -Rafael Wainhaus
WALTHAM, Mass. (PRWEB) February 10, 2022
Benchmark Senior Living at Waltham Crossings, an award-winning assisted living and Mind & Memory Care community in Waltham, Mass., and the Waltham Council on Aging, today announced the two organizations have partnered to offer education and expertise for caregivers and family members of aging parents.
The Caring for Aging Family Members virtual support group is being led by Rafael Wainhaus, LHNA, LCSW, executive director of Waltham Crossings and a social worker specializing in older adults.
"This is a wonderful opportunity for us to partner with Waltham Crossings to offer a much-needed service," says Marybeth Duffy, a licensed social worker and director of the Waltham Council on Aging. "Adult caregivers have always had the challenge of balancing all aspects of their lives. During the pandemic, it's become even more stressful. This type of support group is very much needed at this time. Rafael brings his expertise and kind heart to this program."
The Caring for Aging Family Members forum will begin on February 13, 2022, at 4 p.m. Attendees will benefit from insight on how to deal with managing COVID-19 stressors and best practices for stress management for caregivers, family members and their loved ones. To RSVP, email rwainhaus@benchmarkquality.com and the Zoom link will be emailed.
Wainhaus has a master's degree in social work and a bachelor's in psychology. As a licensed nursing home administrator, he's worked for and managed several communities in the Boston area, including Chelsea Jewish Lifecare.
Wainhaus assumed leadership of Waltham Crossings nearly a year ago when he returned to Benchmark. Since joining the community, he's enhanced their award-winning care and experiences with refreshed living spaces.
"We hear from families every day who are struggling to provide their loved ones with the care and social engagement they need this winter given the challenges of COVID-19," says Wainhaus. "I'm honored to be able to use my expertise to help people in Waltham and our greater communities."
Benchmark Senior Living at Waltham Crossings is an 89-apartment assisted living community conveniently located off Route 128. Residents enjoy 24/7, personalized care, if needed, and daily experiences that nurture their interests and goals. The community has a wide variety of common spaces residents enjoy together including a wellness center, sunroom, movie theatre and demonstration kitchen. The staff includes plenty of long-term associates, many who have been there for over 20 years.
About Benchmark Senior Living
Benchmark is a leading provider of senior housing in the Northeast, providing independent living, assisted living, memory care, and respite care options in 63 communities and across seven states. The Waltham-based company's core values of Called to Care, Better Together and Be the Benchmark guide its mission to stay connected to who and what matters most: our residents, their families and our associates.
Benchmark is one of only two companies to be named to The Boston Globe's Top Place to Work all 14 years that the honor has been given. Throughout its history, Benchmark has continually been recognized as a top workplace. The Great Place to Work Institute certified Benchmark for two straight years, and the company earned a place on FORTUNE's 50 Best Workplaces in Aging Services list each of the two years that the magazine published the list.