Winter Olympics 2022: day 6 live updates, Chloe Kim wins gold in halfpipe, Australians in action, schedule, events, figure skating final, Jarryd Hughes, how to watch, results, – Fox Sports
American sensation Chloe Kim gave a snowboarding masterclass as she successfully defended her Olympic halfpipe title at the Beijing Games on Thursday.
Meanwhile, four Australians suffered heartbreaking exits in the men's snowboard cross finals, failing to emulate the brilliant run of Belle Brockhoff who finished fourth in the event yesterday.
Jarryd Hughes could not defend his silver medal from PyeongChang 2018 after crashing out in the first round of racing, leaving him to deliver a tearful interview on live TV.
And a Swedish gold medallist has specacularly accused a rival team of 'corruption'.
Check back for live updates and follow the action in our blog below!
HUGHES' HEARTBREAKER
Australian Hughes was the only boardercross medallist from that games to back up and compete at Beijing and is also the reigning world champion in the mixed event alongside Belle Brockhoff.
But he has suffered with injuries in recent years, having undergone six knee surgeries as well as an ankle surgery just four months ago.
He struggled in the seeding runs before crashing out in his first race.
An emotional Hughes told Channel 7: "I was in a good position, didn't have the best start… had to send it down the inside and I blew out. That's the way border cross goes sometimes… Just not the result I wanted.
"(I'm) holding back tears, just really disappointed with my result… It's been a lot to get back, especially since surgery."
He added: "I'm just so disappointed. It's not what I came here to do. It's just a crap result."
Three-time Olympian Cam Bolton was the standout among the four Aussies, finishing the seeding in eighth and making it through his first racing heat in first position.
But needing to again finish in the top two in the quarter-finals he was beaten on the last corner, having overtaken his way into second place just one corner prior.
Fellow Australians Adam Lambert and Adam Dickson both failed to finish in the top two in their first seeding runs, Lambert missing out by just 0.03s.
Gold medal hero touches down back home | 01:05
'CORRUPTION' CLAIMS ROCK OLYMPICS
Swedish Olympic gold medallist Nils van der Poel accused the Netherlands' speedskating hierarchy of 'corruption' after a Duch report said officials had attempted to influence ice makers to create conditions that would suit Dutch athletes.
Van der Poel had earlier claimed gold in the 5,000 metres, Sweden's first speedskating medal since 1988.
"This isn't my idea of fair play," van der Poel said, referencing a report that the Dutch team had a scientist trying to influence Ice Ribbon oval ice master Mark Messer.
"This is the biggest scandal in our sport," he said.
"We have doping cases in our sport every now and then. I do not see how this is any less serious."
He took care to not criticise the Dutch skaters, but rather aimed his spray at their speedskating bosses. "I have the biggest respect for the Dutch speed skaters. I would not be the person I am today if it wasn't thanks to those guys. They pushed me to push myself," he said.
"This is an abomination," van der Poel added. "I like it to be fair, to be just. I like it to be about sport and competing. I wish it not to be about affecting judges, affecting administrative personnel.
"When you do things like this, we really must question the authenticity of the results."
ITALIAN STAR'S KISS PROTEST
Italian speed skater Arianna Fontana claimed gold on the short track in the women's 500m event.
The 10-time Olympic medallist then blasted her country's National Olympic Committee in the latest act of a bitter feud, revealing Italian Olympics officials 'didn't want her' to compete in Beijing.
After winning gold, the 31-year-old screamed loudly and skated to her husband and coach Anthony Lobello Jr for a kiss on the edge of the rink – snubbing her team officials in the process.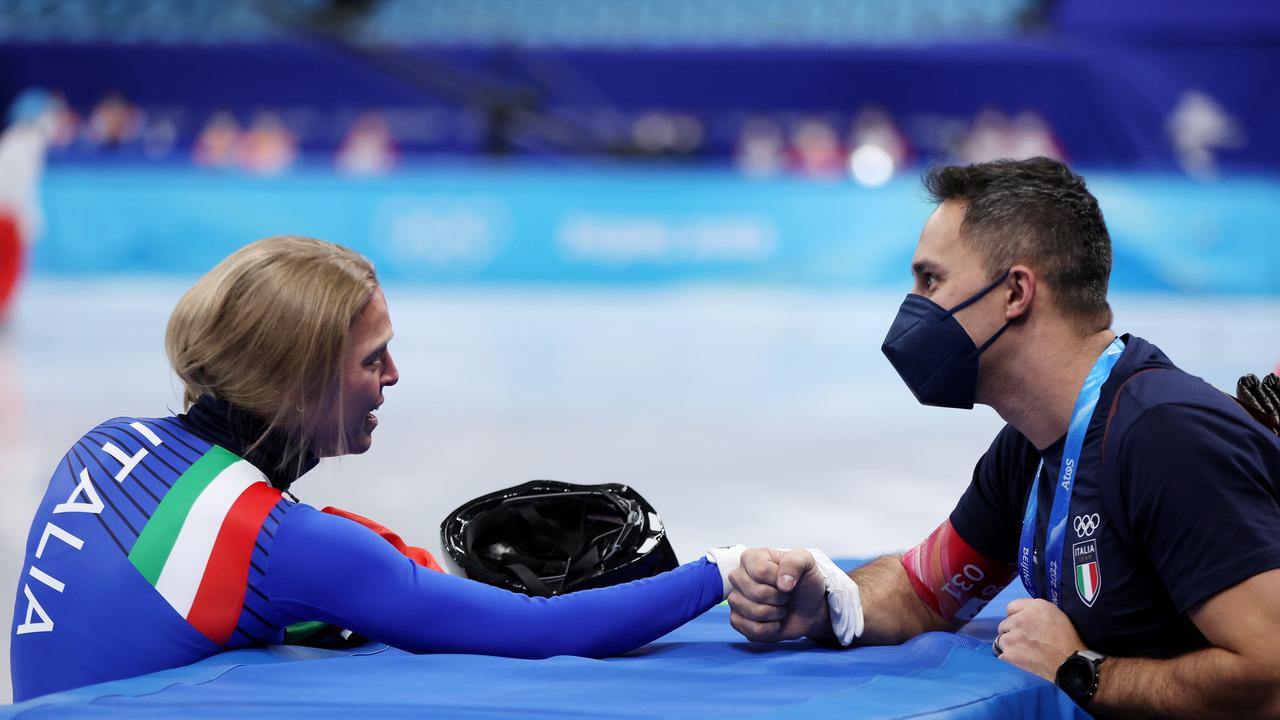 "When I crossed the line — all that yelling — I don't usually yell, it was just a way to let it out, all that anger," she said.
"We had people that didn't want me here. My federation wasn't really supportive with me having my husband as a coach.
"Me and my family had to go through a bad situation, people that didn't want me here. They didn't want me having my husband as coach, but today we proved he was the best possible coach.
"They didn't help. In fact, they tried to find ways that we wouldn't be here at all. It was tough. Today we proved that he's an amazing coach. It was my best choice, my best decision to have him on my side."
"I saw a couple of (Federation officials) in the hallway — they didn't even come up and say congratulations," Fontana added.
"I wasn't looking for them to come up to me. It's actually better if they stay away."
TWO Aussies into Men's halfpipe final! | 00:59
CHEN MAKES HISTORY AS AUSSIE FLAGBEARER SMASHES PB
Nathan Chen demolished the competition to win Olympic figure skating gold Thursday, easily beating twice defending champion and fierce rival Yuzuru Hanyu, who finished fourth.
The American scored 332.60 overall, finishing over 20 points ahead of silver medallist Yuma Kagiyama of Japan.
He had finished fifth in 2018, but since won three world championships and has become an all-time great of the sport.
Skating to an Elton John medley, the 22-year-old lived up to his "Quad King" nickname by landing five quadruple leaps in his free program.
The Australian Olympic flag bearer and three-time Olympian Brendan Kerry smashed his personal best in the free program portion with a score of 160.01 to finish with a total score of 244.80.
He finished 17th, beating his previous best result of 20th at the 2018 Games in PyeongChang.
Kerry had put up a score of 84.79 in the short program – a season best – to comfortably qualify for the medal round, despite struggling to execute his jumps in practice.
Kerry's total element score for the short program came in at 45.93 while he scored 38.86 for his presentation.
KIM MAKES HISTORY
21-year-old Kim had the halfpipe title in the bag after only the first of three runs, scoring a whopping 94.00 points to give her a virtually unassailable lead.
She clutched her helmet and fell to her knees after sliding into the finish area, then got back up and turned the rest of the competition into her own private victory lap.
She fell on her second run and received a hug from Californian-born Chinese freestyle skiing star Eileen Gu, who was watching at the finish area, before making her way back up the hill for her third and final attempt.
By then she already had the title wrapped up, and although she fell again on her final run, she celebrated with the other riders when she slid in to the finish area.
Kim had admitted to having the "worst practice in her life" before going to gold in the halfpipe final.
Spain's Queralt Castellet took silver on 90.25 and Japan's Sena Tomita claimed bronze on 88.25.
China's best hope Cai Xuetong, who was third in qualifying, finished fourth on 81.25 despite vocal support from Gu and the flag-waving home crowd.
Kim became the youngest woman to win an Olympic snowboarding medal when she won halfpipe gold as a 17-year-old at the 2018 Pyeongchang Games.
She took a two-year break from competition after her Olympic success as she struggled to cope with the pressures of fame.
SKELETON STAR NABS 24TH
Elsewhere, Western Australia's Nick Timmings made his Olympic debut in the men's skeleton, the 31-year-old finishing 24th after the first two runs.
Timmings was the overall winner of the 2021-2022 IBSF North American Cup in December, his first-ever overall title.
CROSS COUNTRY DUO BACK FOR REVENGE
Cross-country skiers Jessica Yeaton and Casey Wright again delivered strong results in the women's 10km classic.
The pair were unable to qualify for the quarterfinals in the sprint event at the National Cross-Country Skiing Centre earlier in the week.
Yeaton came in 52nd place – an Australian record – while Wright finished in 65th.
This time around, Yeaton finished 51st and Wright 67th in another strong result in a field of 98 competitors.
Speaking to media in the lead-up to the Olympics, Yeaton explained how training in the Alaskan forests had helped prepare for her Olympic dream.
Yeaton had spent her childhood in Perth, Texas and Dubai but moved to Alaska at 12 years old.
There were plenty of risks involved in her training approach, including run-ins with bears.
"Two years ago I was out training, biking with my boyfriend, and we ran into two grizzly bears, and they both got up on their hind legs and were grunting at us," Yeaton told reporters.
"I thought that was the end – (but) if you were in Alaska you would tell that story to other athletes, and they would be like, 'oh yeah, me too!'"
"I think I prefer actually training in places where I can be out on my own and not have to worry about that kind of thing," she explained.
"The training is great there, if you have friends around it's fine, but just doing things by yourself maybe not, but for the most part it's OK."
DAY 6 – Events Schedule – Australians
12:30pm: Brendan Kerry — Figure Skating (Men's Single Skating Free Skate)
12.30pm: Nick Timmings — Skeleton (Men's Heat 1)
2pm: Nick Timmings — Skeleton (Men's Heat 2)
2.15pm onwards: Jarryd Hughes, Adam Lambert, Adam Dickson, Cam Bolton — Snowboarding (Men's Snowboard Cross Qualifying)
6pm: Jessica Yeaton and Casey Wright, Cross Country Skiing (Women's 10km Classic)
Follow the day's Winter Olympics action in our BLOG below!
If you can't see the blog, click here.